Karina Popovich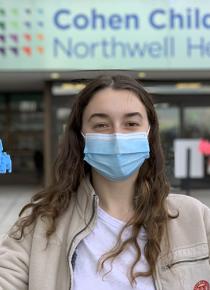 Meet Karina Popovich
Hometown: Brooklyn, NY
College: Dyson School of Business
Major: Applied Economics and Management
Year: 2023
Karina Popovich '23 is one of this year's Robinson-Appel Humanitarian Award recipients and is an undergraduate student at Cornell University's prestigious Dyson School of Business where she is pursuing a career at the intersection of entrepreneurship, technology, and social impact. Karina has a blazing curiosity for all-things tech, specifically 3D-printing.
During the pandemic, Karina founded Makers for COVID-19, a coalition of 3D-printer owners from around the world who 3D-printed and donated 82,000 units of PPE to medical workers in the United States. She was honored by Entrepreneurship at Cornell and the Clinton Global Initiative University COVID-19 Response Award for her work. Makers for COVID-19 is recruiting high school and university makerspaces and student teams to form PPE production and distribution chapters. With the support of their makerspace faculty and a Makers for COVID-19 mentor, student teams will build their own organizations that provide PPE to their communities.
Students will properly produce PPE such as face shields and fabric masks, find facilities in need (reopening schools, clinics, homeless shelters, and more), and facilitate safe and sanitary donations. While learning key leadership skills through experience, students also get a number of professional development opportunities ranging from future internships with our program partners to learning how to fundraise. All student teams will receive seed funding with the intention of them fundraising towards the end of the program in order to be fully sustainable. Beyond COVID-19, they hope that these school-affiliated chapters can continue social impact through making 3D-printing prosthetics.
"This award is making it possible for us to continue supporting our student teams throughout the 6-month duration of the program. Without this award, we wouldn't be able to provide the students with the material reimbursement for them to focus on their growth and development. This funding is the very reason we are able to create a program that is longer in duration and allows our 40+ students to really cultivate invaluable leadership and change-maker skills through a variety of mediums: hands on experience, workshops, speaker sessions, and more. What's more important, this award is giving our students the ability to focus on making an impact and growing without worry about financial burdens. That's what makes this award such a gift and a blessing to the program and it's students!"