Oluomachi Onyekwere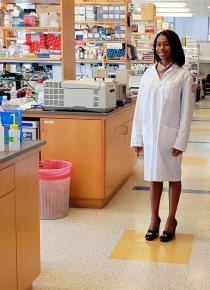 Meet Oluomachi Onyekwere
Hometown: Maplewood, NJ
College: College of Agriculture and Life Sciences
Major: Biological Sciences
Year: 2021
Junior Oluomachi Onyekwere is a member of the Rawlings Cornell Presidential Research Scholars (RCPRS) program studying Biological Sciences in the College of Agriculture and Life Sciences.
This past summer, Oluomachi had the opportunity to conduct research at Weill Cornell Medicine through its ACCESS program. Her research in the Josefowicz Lab of Epigenetics and Immunology at Weill examined the effects of histone mutations on blood stem cell development. One experiment she performed involved her engineering histone H3 serine 86 mutations and analyzing the differences in the differentiation pattern of the blood stem cells within these mutant conditions. This experience was Oluomachi's first full summer dedicated to research, which at first was nerve-wracking, but also turned out to be one of her best research experiences yet. Oluomachi explained that working in the Josefowicz lab was great because she was constantly learning new things while building on the fundamental research techniques she learned in her three semesters as a Research Assistant on campus in the Tait Wojno Lab (formerly located at Cornell's Baker Institute of Animal Health).
In addition to her work in the Josefowicz Lab, her participation in the ACCESS program culminated in an oral presentation of her research at her first conference, the Leadership Alliance National Symposium (LANS). Her presentation went so well that ACCESS later selected her to be one of two students in the program to share their research at ACCESS's final ceremony, a ceremony that gave her the opportunity to present her research in front of her family and others at Weill Cornell. Oluomachi told us that one of the key takeaways of her experience this summer is that when starting off in research, you are not going to be an expert in that field. But, you learn by reaching out to the people around you and asking a lot of questions.
One piece of advice she has for new RCPRS-ers is to be both persistent and patient when trying to get into research on campus. Oluomachi acknowledged that it can be easy to feel discouraged if you haven't found a lab or a field of research that interests you by your first semester on campus. However, Oluomachi stressed the importance of not rushing into anything just to be involved in something: you should be passionate about the research you are doing in addition to finding an environment you can be happy in. She also shouted-out RCPRS director, Kristin Ramsay, for her warmth and advice on navigating the various aspects of conducting research at Cornell.
Outside of her research, Oluomachi is an active citizen in Keeton House, and organized a cultural series in Keeton in an attempt to highlight the diversity of experience. She is Nigerian and wanted a space to share her culture with others, so she hosted a Nigerian food and conversation event. She later worked with members of the Bhangra dance group on campus to host an Indian food and conversation event. She's been very pleased with the success of both events and she has plans to continue the series for as long as she is on campus.