Tyler Correawhite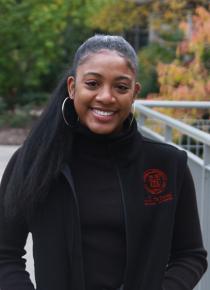 Meet Tyler Nuella Correawhite
Hometown: Brooklyn, NY
College: Industrial and Labor Relations
Year: 2021  
Before coming into Cornell, Tyler knew that she wanted to be intentional about the work that she would be doing. She wanted her work to be equally innovative and have a clear purpose that reflects a high level of social consciousness and a responsibility to the economic, political and social advancement of marginalized communities. "Therefore, I joined The Black Women's Support Network, an organization that provides support through giving women ample access to resources and tools on campus that will assist them with academic, personal and social endeavors at Cornell University," says Tyler.
"I wanted to help to create spaces where Black women felt as if they could be their most authentic self, despite the ongoing influences of society's projected expectations that they constantly battle with on a daily basis. I was also passionate on closing the educational gap between my community and financial literacy because I felt that this educational gap contributed to our lack of generational wealth. This led me to join BlackGen Capital, Cornell University's first 100% underrepresented minority owned investment fund where it aims to provide underrepresented students with extensive financial training to manage active long/short equity portfolios."
Tyler assumed the role of VP of Recruiting for BlackGen where she could create an unbiased and inclusive structure and create an inaugural cohort of diverse talented students interested in learning finance. Tyler says, "Overall, the inspiration behind getting involved in these organizations was the goal in helping to remove barriers that exist within our society."
Tyler believes that all students should take part in student organizations on campus. She says, "I quickly realized that getting involved on campus would help me to develop certain skills and learn more than what you would typically learn in your classes. Most of this learning came from helping my community to solve issues and how I went about solving those issues. Throughout my involvement on campus, I had to discover the "whys" behind all of the things I was doing, so that there was a clear purpose behind my actions."
"Often times, I would think about my ancestors and how they paved a way for my generation, therefore, I should do the same and make sure that I help to foster a better society for the next generations to come through social change and impact, and why not start here at Cornell?"