Han Wang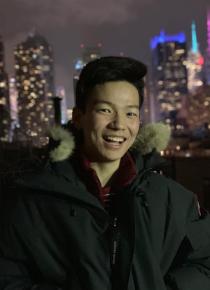 Meet Han Wang
Hometown: Surrey, British Columbia, Canada
College: College of Agriculture and Life Sciences
Major: Information Science
Year: 2022
Han Wang was inspired to begin his start-up, FoodFul, from attending the Digital Agriculture Hackathon, a student run event at Cornell University.
The Digital Agriculture Hackathon was the first hackathon he had experienced at Cornell. Though he wasn't well-versed in the agricultural space, or agricultural tech at all, he and his team ended up winning the "Most Market-Ready" category by the end of the weekend. 
The idea came to him and his team from observing cows. Han says, "One of the guys took us to the Cornell Dairy Barn, and we got to see actual cows. We noticed that the cows have these little tags on their ears, RFID tags, and work the same way our Cornell cards work; they can scan just like our cards do. One of my teammates worked with RFID sensors before, and he hypothesized what would happen if we had these sensors placed at the bottom of the stalls; every time a cow bends down to eat, the tags would pick it up, and then we'd correlate all sorts of information. At first, we thought it was a silly idea that this had already existed. But shortly afterwards we thought, 'It'd be a cool hackathon idea, right?'"
Once the hackathon went well for the team, Han and his team decided to take it a step further and pursue the start-up idea. It turned into what it is today-- Foodful, a venture-backed agri-tech company that develops a cloud-based monitoring system for dairy cows. The company's DairyX product uses a combination of sensors and software to measure feed efficiency, monitor bovine health, and reduce on-farm visual inspections. The team modernizes outdated practices by allowing farmers to make data-driven management decisions.
He has also been able to develop his start-up and explore other aspects of entrepreneurship with Cornell's well-connected, vast entrepreneurship network. The community he found in eHub, an open, dynamic collaboration and coworking space that fosters entrepreneurship for the Cornell community, has been vital in helping him and his team gather resources and connections necessary for Foodful, learn from other students' and alums' start-ups and passion projects, and understand entrepreneurship on a wider scale.
Running such a wide-scale start-up such as Foodful has given him perspective into more of his interests and passions, which he fleshes out in other commitments. One of his passions that he's come to realize is consumer tech, which Design Tech Initiative (DTI), a project team focused on consumer platforms for Cornell students, has helped him explore. Han wants to be able to be closer and more integrated with these kinds of Cornell communities and really be able to say, "I'm trying to solve a problem for you." 
 
These various experiences that Student & Campus Life offers has allowed him to really believe in various missions and start to build a passion towards bettering the Cornell community and beyond.