Sara Baaser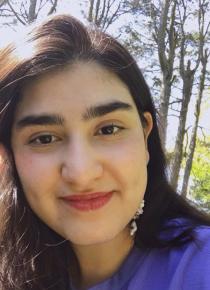 Meet Sara Baaser
College: College of Agriculture and Life Sciences
Year: 2023
Organizations and Campus Affiliations: Steminist Movement Ambassador, COVID-19 Peer Ambassador
Why did you become an Ambassador?
I became a Peer Ambassador to be part of a community that works to keep our peers and campus safe during these unexpected times. Having an opportunity to keep others safe is important to combating this pandemic with hope and perseverance!
Favorite socially distanced activity?
Taking daily walks around the neighborhood and enjoying the fresh air!
What are some ways you're working to keep our campus community healthy and safe?
Part of the Peer Ambassador's Social Media Team, creating and promoting public and university health safely guidelines to fellow students on social media sites!
Why do you wear a mask?
I wear a mask to keep those that I care about safe and showcase solidarity to the hardworking medical and health professionals working on the frontline.
What's one piece of advice you'd give to everyone during this COVID-19 pandemic?
A piece of advice I would give to everyone is don't worry too much, you are doing your best and that is enough, you can do it!