Daphne Lucana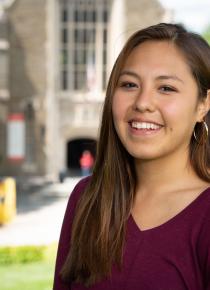 Meet Daphne Lucana
Hometown: Buford, GA
College: College of Engineering
Year: 2023
Daphne is part of the inaugural class of Kessler Presidential Scholars, a program in support of first-generation students at Cornell. 
Being a first-generation student, I am evermore thankful for having the opportunity to pursue and pave a new prosperous path of education within my family, community, and world. Navigating the college process has been complex at times; however, these trial and error moments have allowed me to experience situations that I can learn from in order to support and empower my peers and newcomers.
At Cornell, I look forward to building strong community bonds by immersing myself in community-outreach programs that will allow me to express the bright future of first-gen scholars, as a united team.