Shreyas Prasad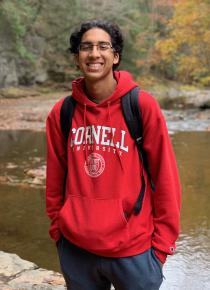 Meet Shreyas Prasad
College: College of Agriculture and Life Sciences
Year: 2023
Organizations and Campus Affiliations: CEP, CSS, BRR, APO, COVID-19 Peer Ambassador
Why did you become an Ambassador?
I became a COVID-19 Peer Ambassador because I wanted to promote a healthy environment on campus and ensure that people could safely make the most out of this unprecedented semester.
Favorite socially distanced activity? 
Tossing around a frisbee 
What are some ways you're working to keep our campus community healthy and safe?
I have been working as a Peer Consultant to brainstorm ideas on how Cornell could improve on existing procedures and implementing new protocols to ensure a safe learning environment. 
Why do you wear a mask?
I wear a mask to protect not only my friends and family, but the members of the community who may be at a higher risk for developing chronic symptoms of COVID-19.
What's one piece of advice you'd give to everyone during this COVID-19 pandemic?
Wear masks anytime you're outside and avoid dine-in restaurants(a large percentage of COVID-19 outbreaks have been traced to restaurants where mask wearing is not possible)