Joy Liu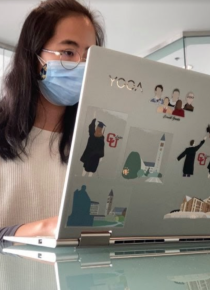 Meet Joy Liu
Hometown: Malvern, PA
College: School of Hotel Administration
Major: Hospitality Administration
Year: 2021
Joy Liu speaks about her experience taking a gap semester during the Fall 2020 semester during COVID-19, creating community through her sticker selling business, giving students near and far a way to show their Cornell pride, and finding the intersection of her passions through the Hotel School and her campus experience.
In discovering potential colleges to attend as a high school student, Joy was especially drawn to the Hotel School at Cornell. She was always passionate about food and travel and thought the Hotel School was a great way to learn about her passions and hobbies in an academic setting and actualize making her passions into a career. 
Upon joining the school, she realized that the School of Hotel Administration was a great foundation for hospitality business education while allowing students to explore the various concentrations and minors the school offers. She was particularly drawn to the Design + Environmental Analysis (D+EA) Minor, taking architecture and design courses to combine her interests in real estate, hospitality, and design. Joy found an ideal amalgamation of her interests in her post-graduation career at LaSalle Investment Management as an Analyst.
Due to COVID-19 and the changed climate, Joy spent the Fall 2020 semester taking a gap semester. Ironically, it's her time away from Cornell that inspired her to start the business-- because she hadn't been on campus for a whole year, she wanted to find a way to feel more connected to campus. She began channeling fond memories and Cornell establishments through her art. Over time, she started utilizing her designs as Cornell-themed stickers. 
Quickly, her mission with her Cornell-themed stickers began to help the Cornell community feel connected to campus and show their Cornell pride and identity. Highlighting that COVID has been tough for everyone, Joy wanted to ease adapting into a less connected student and campus life and switching into the virtual learning environment. 
The stickers support a worthy cause as well-- ten percent of all sales will go towards The Kids & Art Foundation, which is a foundation that provides healing art workshops to Bay Area children and teens with cancer, their siblings, families, and support teams. 
"Art has played a huge part in my life, so having equal access to art has always been very important to me. Therefore, I wanted to work with art-related foundations and organizations and came across The Kids & Art Foundation. Cancer can be a tough journey to go through, so having art as a medium for patients allows them to take their mind off of their diagnosis and current state." 
Joy plans to continue selling her stickers and creating more designs, branching into major-specific stickers next. Learn more about Joy's stickers through her Google form and her Instagram account.