Alexa Marilyn Torres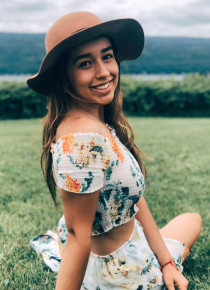 Meet Alexa MarilynTorres
Hometown: Los Angeles, CA
College: School of Hotel Administration
Major: Hotel Administration
Year: 2021
Before Alexa officially stepped onto campus as a freshman, she came to know Cornell and its people through the Prefreshman Summer Program, an invite-only program that invites attendees to college life through classes, field trips, guest lectures, and a wide range of social and cultural activities. Here, she was able to learn more about what life at Cornell would be like as a freshman. 
She finds joy in various clubs, such as National Society of Minorities in Hospitality, an organization dedicated to empowering minority students in hospitality; 
Her interest in entrepreneurship began in high school, but it truly kicked off when she took Communication for Entrepreneurs, a class designed to teach students developing communication competencies in a variety of entrepreneurial communication contexts. She became increasingly interested in the realm of entrepreneurship, taking more hospitality and grad school entrepreneurship classes and attending a variety of entrepreneurship events through organizations such as the Pillsbury Institute for Hospitality Entrepreneurship, Life Changing Labs, Entrepreneurship at Cornell, eHub, and more. 
"Just seeing what opportunities were out there and exposing myself to various opportunities, communities, and events really helped me understand more of what I wanted to do and seek different passions. Simply learning and understanding different people's perspectives was invaluable to my growth and perspective now, and it's still changing day by day." 
In retrospect, these series of smaller events added up and inspired her to begin thinking of her own creative ventures and entrepreneurship ideas. She knew she was passionate about creating social impact through equalizing opportunities for the less fortunate, but she hadn't figured out how she would fulfill that purpose. 
"It all began when I went to Mexico in 2018, the summer after my freshman year. Whenever I visited, my family would always give me handmade jewelry created by Huichol women who oftentimes live on the street in bad conditions. Seeing their living conditions and how dependent they were on tourists was saddening, and I wanted to help out to create something more sustainable for these women." 
With that, she started Interwoven Bracelets, a beaded jewelry company that helps raise money for indigenous communities in Mexico. By creating customized designs, Interwoven helps weave together Alexa's Mexican-American cultures while creating social impact through sharing Huichol women's talents and crafts.
"Each bracelet is uniquely crafted in Mexico by hand, woven with the thinnest of needles and strung together with love. Each bracelet takes about 4 hours of patience and focus to make. The craft of the Huichol people is their means of survival as most of them come from very poor communities, so Interwoven aims to improve the artisan's quality of living by giving back to them." 
Interwoven has grown to include two other Cornell students, Sam Law and Tom Myers, who have helped Interwoven develop into the venture it is today. Alexa hopes to continue to lead the team, develop the Interwoven brand, and expand the team of artisans to share their crafts in a larger community that so values their talents and wants to make an impact.