Cheick Camara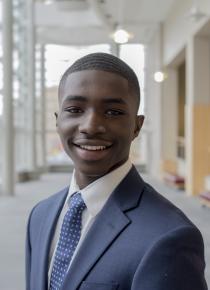 Meet Cheick Camara
Hometown: Harlem, NY
College: Dyson School of Applied Economics and Management
Major: Applied Economics & Management (Minor: Computer Science)
Year: 2022
 
Cheick co-founded BlackGen Capital in order to initiate a legacy of paying it forward within the underrepresented minority (URM) finance community at Cornell. With his friend Ermias, he realized there wasn't a welcoming space for URM students interested in finance to unify and uplift each other. "We lacked a central hub where talented URM students interested in finance could grow collectively through empowerment and technical education," says Cheick.
"I had already been lucky enough to have reaped the benefits of great mentors who passed down many resources to me. After receiving their guidance, I was able to continue passing down this information to other underserved students, albeit at a very limited scale: one student at a time." Cheick was convinced that BlackGen Capital would allow him to give back to his community on a much greater scale.
Cheick says that the impact of this organization transcends his time here at Cornell. He sees BlackGen continuing to flourish for the next decades and centuries to come. "Every semester until perpetuity, BlackGen will power forward the next generation of Wall Street professionals and also manifest a path to generational wealth."
Cheick's interests in finance/business started at a very young age. "When I was 9 years old, I took out a small loan of 20$ from my mom in order to start a candy selling business at school. I made enough in one week to repay my mom and continue reinvesting the additional profits in order to expand the venture!"