Samay Bansal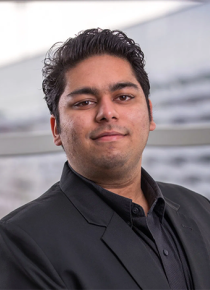 Meet Samay Bansal
Hometown: Singapore
College: School of Hotel Administration
Major: Hospitality Administration
Year: 2020

Samay is the founder of Million Meals, a non-profit aimed at reducing global food insecurity through alliances with grassroots partners and food distributors. So far, the organization founded in 2016 has provided over $120,000 worth of meals to locations worldwide. 
When Samay stepped foot onto Cornell's campus as a transfer from Tufts University, Samay's expectations were simply to get a Cornell degree. Once he experienced more of Cornell's culture and communities, he realized there were so many ways to get involved and make a difference. 
"I naively came into Cornell as a transfer who came in for the purpose of a degree. For the Hotel School. I was a bit upset at leaving Tufts, but that quickly changed once I came to know more of the campus. I was able to find people who shared the same interests as me as well as expand my horizons on other realms."
The community at the School of Hotel Administration stuck out to him primarily and taught him how diverse and applicable hospitality was to everyday life, business, and beyond. 
"When I came into the Hotel School, I was completely under the impression that everyone wanted to do operations. That perspective changed quickly as I realized there were people from a variety of interests, from real estate to pre-law to operations and more. I learned that other people could be passionate about the same space but in different interactions of hospitality. It's given me a fuller perspective."
The creation of Million Meals came in his exploration of perspectives within the Hotel School and through The Shed that Fed a Million Children: The Extraordinary Story of Mary's Meals, a book by entrepreneur and philanthropist Magnus MacFarlane-Barrow. The organization has provided over 100,000 meals globally, from India to Cambodia and beyond.
"Million Meals Mission is my chance to pay it forward and give back to those in need. My objective is to provide one more opportunity for those who want to donate and contribute to do so. In conversations with others, I discovered that, for some people, they find it difficult to financially support initiatives and truly understand where the money goes. I want to provide people an organization with a cause that people care about know exactly where that money is going."
Beyond Million Meals, Samay is involved in various other communities as well, from the Singaporean community to the Hotel School's Student Advisory Board to Statler Hotel's Hotel Leadership Development Program. 
"Each organization has a fond place in my heart, and it's opened my eyes to people I would've never met otherwise. Coming in as a transfer who just wanted his Cornell degree, I would've never anticipated the wonderful organizations and communities I found at Cornell, and I couldn't be happier."