Alexander Kucherina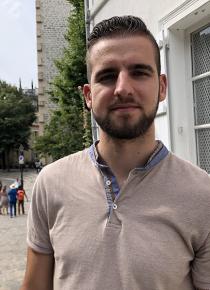 Meet Alexander Kucherina
College: Human Ecology
Year: 2021
Affiliations: COVID-19 Peer Ambassadors, The Advocate, American Cancer Society
What is your favorite socially distant activity?
My favorite socially distant activity is playing tennis outside with a friend.
What are some ways you're working to keep our campus community healthy and safe?
I will be helping distribute masks and other PPE supplies on campus.
What is one piece of advice you would give to everyone for maintaining their health and well-being during the COVID-19 pandemic?
Make sure to make time for yourself to relax, as there is so much going on in today's world and it is very important to make sure you get enough sleep, are feeling rested, and have time for yourself to pursue your hobbies in order to be happy.