Tan Halacoglu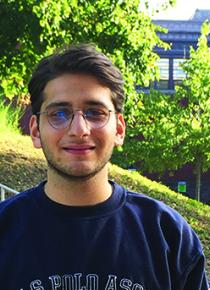 Meet Tan Halacoglu
Hometown: Istanbul, Turkey
College: Art, Architecture, and Planning
Year: 2023
Tan is part of the inaugural class of Kessler Presidential Scholars, a program supporting first-generation college students at Cornell.
"For me, being a first-generation college student has several meanings: making my parents proud, working hard to overcome conflicts, and making the most out of my college experience," says Tan. "Although I was nervous before coming to Cornell, not only because I was a first-generation college student, but also due to the fact that I was traveling miles away from home to a place I have never been to, I quickly adapted to my life here. Cornell already feels like a second home and I can't wait to get involved more"
During his time at Cornell, Tan's goal is to not only thrive academically, but to learn and experience as much as he can from the diverse community here at Cornell. He would also like to get involved with the local community in Ithaca and volunteer in ways he can contribute.  Tan says, "Being a Kessler Scholar is an incredible opportunity that supports students like no other program. The immense support and sincerity I've received as a Kessler Scholar made my transition to college a lot easier and smoother."