Sian Brown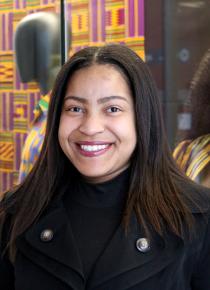 Meet Sian Brown
Hometown: Roanoke, VA
College: College of Human Ecology, Department of Fiber Science and Apparel Design
Major: Apparel Design
Year: 2020 MA
As part of her research, Fiber Science and Apparel Design graduate student Sian Brown MA '20, recently curated Black Excellence: Fashion that Prevails, a fashion exhibition organized through the Cornell Costume & Textile Collection. The exhibit features items designed by influential Black style tastemakers, influencers, and artists. Black Excellence showcases the power to prevail through fashion. "A design sensibility rooted in our African heritage is embodied through the strength of ongoing resistance, resilience, and creative intervention," said Brown. 
Brown interviewed Black fashion designers in North America about their experiences in the industry, including their struggles, triumphs, and joys. Her research findings are conveyed through Black Excellence, which explores fashion design as a site where Black culture, dress, and identity are negotiated and produced.
Sian says that her time at Cornell has taught her "to be open minded about my research, and about the beautiful differences in the ways that others think and promote their own research. There are some brilliant and fantastic minds at Cornell." 
Although her research is her main focus, Sian has taken part in a number of campus activities during her time at Cornell from attending athletics events to connecting with new friends at student and faculty mixers. Her advice for new students - undergraduate, graduate, or professional - is to make time to get involved. She says, it "is not only about networking and promoting oneself in an academic or professional manner, but it can also set you up to make long lasting connections and friendships! That to me, is invaluable!" 
"I have made Cornell home by making sure that my support system is strong and by taking time to enjoy the beauty of Ithaca. It's important to pull yourself away from your research sometimes to just enjoy life. Even if it's just a short walk around campus."
Black Excellence: Fashion that Prevails is on display from February 12 - May 26, 2020 on Level T of the College of Human Ecology Building. Read more about Sian's research and work.