Emma Jacob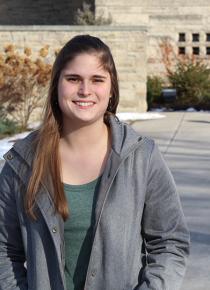 Meet Emma Jacob
Hometown: Midland, MI
College: College of Engineering
Major: Chemical Engineering
Year: 2020 
Emma shares her Cornell story through her experience as a Cornell Chimesmaster. Join Emma and her fellow class of 2020 Chimesmaster, Hans Slechta, at 7:45pm EST on May 12 for a special livestream concert. 
What inspired you to get involved with the Chimes?
I heard the bells during my first semester, and after doing some investigating online I realized I could actually audition and have the chance to play them. Music has always been a big part of my life, and getting to play such a unique instrument seemed like (and has been) a once in a lifetime experience.
What is your favorite song to play or your favorite memory of being a Chimesmaster?
We play a large quantity of music because we try our best to play a variety. I personally have many songs that I think have really good arrangements and enjoy playing. The things I tend to like are folk songs with variations, Cornell songs, the Beatles, current pop songs, and anything else that catches my eye!  Most of my favorite memories come from the specialty concerts we do to celebrate holidays. For the 41st anniversary of the Grateful Dead's performance in Barton Hall, I had the opportunity to perform my own arrangement of Casey Jones.
Why do you think others should get involved with the Chimes?
The chimes has been an amazing opportunity for me and has allowed me to grow in so many ways as a person. I never envisioned myself playing an instrument for 20,000+ people before but it is incredible and a feeling I'll never forget.
How has being a Chimesmaster impacted your Cornell experience?
Being a Chimesmaster has given me such a feeling of belonging here at Cornell.  It has given me the opportunity to connect with people both in the tower and Chimes alumni that I would never have the chance to otherwise.
What is an interesting/fun fact about you that no one would expect?
I drive through Canada to get to Cornell.