Toni Morrison Hall
Housing Location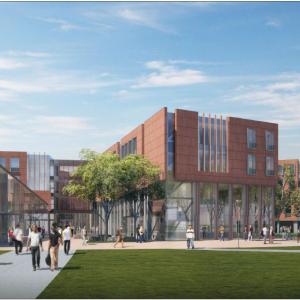 18 Sisson Pl, Ithaca, NY 14850, USA
Starting 2024-2025, Toni Morrison Hall and the Language House at Toni Morrison Hall will house sophomores, juniors and seniors. 
The hall is named for Toni Morrison, the first African American woman to win the Nobel Prize in Literature. Morrison earned a B.S. in English in 1953 at Howard University and a master's degree in American literature in 1955 at Cornell. An A.D. White Professor-at-Large at Cornell from 1997 to 2003, Morrison returned to the Ithaca campus numerous times over the years.
Through creative floor plans, Toni Morrison Hall provides living spaces with a modern aesthetic that enhances the residential experience and encourages interaction and collaboration among students. Toni Morrison Hall aims to draw students out of their individual rooms and into ample common areas that support group study, social interaction, and programs in spacious lounges and nearby cafés. 
Self-governance is well established in this community, with plenty of leadership opportunities. The student-driven Community Council arranges programs and events for residents, ranging from group outings to see plays or go apple picking to educational programs focused on women in the workplace, surviving academia at Cornell, sexuality and relationship development, and body image. 
Community Features
306 residents 

Located on North Campus
Single and double rooms arranged in suites with shared bathrooms. Floors are single gender (female identified)
Lounges, study areas, shared kitchen spaces, a music practice room, and laundry facilities 
Bedrooms contain, for each occupant: an extra-long twin bed, a wardrobe and three drawer bureau, a desk and desk chair, a desk lamp, a wastebasket, and recycling bin
Wireless Internet access 
Toni Morrison Hall is temperature-controlled. 
Mail and packages:
Visit the Service Center website for student mail and package information.
Please be sure mail and packages are addressed to you at:
Name, NetID
107 Robert Purcell Community Center
Cornell University
Ithaca, New York 14853
For local deliveries such as InstaCart, Shipt, Ithaca To Go, and DoorDash, please be sure to specify Toni Morrison Hall, 18 Sisson Place, as there is another Morrison Hall on campus.
Affiliated Faculty
Toni Morrison Hall has a number of Faculty and Community Fellows that provide students with opportunities to explore and cultivate their academic, intellectual, and cultural interests. You will find them attending events in your building, eating with students in the dining room, and leading on- and off-campus trips to lectures, plays, films, concerts, and regional points of interest.
Laundry
Payment for use of washers and dryers is through a Campus Life debit account accessed by downloading the CSCPay Mobile App to add funds to your laundry account. You can download the app from the App Store or Google Play. The recommended starting amount is $25. Subsequent deposits can be made at any time. The balance in your laundry account will remain active as long as you live in University housing. Please note that any balance remaining after you move out of University housing cannot be refunded.
Dining Options
Learn about Cornell Dining's undergraduate meal plans.
Questions?