Balch Hall
Housing Location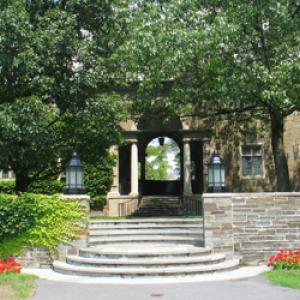 Balch Hall, Ithaca, NY 14850, USA
Note: North Balch Hall will reopen starting fall 2024! South Balch renovation will continue through the 2024-25 academic year and is scheduled to reopen fall 2025.  
Balch Hall is a residence for first-, second-, third-, and fourth-year female-identified students. A four-story Gothic building that opened its doors in the 1920s, Balch is one of Cornell's most historic and unique residence halls, with ivy-covered stone walls, mullioned windows, and flagstone-bedded interior courtyards and gardens. It is being renovated to add modern amenities while retaining its historic charm.
Self-governance -- long a tradition for Cornell women -- is well established in Balch, with plenty of leadership opportunities. The student-driven Balch Hall Council arranges programs and events for the hall's residents, ranging from group outings to see plays or go apple picking to educational programs focused on women in the workplace, surviving academia at Cornell, sexuality and relationship development, and body image. 
Explore the Balch Hall community pages in CampusGroups.
Community features:  
Open to first-year women 
230+ residents 
Located on North Campus 
Single, double, and triple rooms arranged along corridors and shared corridor bathrooms 
Lounges, study areas, shared kitchens, and laundry facilities 
Bedrooms contain, for each occupant: an extra-long twin bed, a closet and a bureau (or wardrobe/bureau combination), a desk and desk chair, a desk lamp, a wastebasket, and floor carpeting
Wireless Internet access 
Balch Hall rooms will be temperature controlled
Affiliated Faculty:
There will be a Faculty-in-Residence when Balch Hall opens again for regular academic year housing.
Laundry:
Payment for use of washers and dryers is through a Campus Life debit account accessed by downloading the CSCPay Mobile App to add funds to your laundry account. You can download the app from the App Store or Google Play. The recommended starting amount is $25. Subsequent deposits can be made at any time. The balance in your laundry account will remain active as long as you live in University housing. Please note that any balance remaining after you move out of University housing cannot be refunded.
Mail and packages:
Visit the Service Center website for student mail and package information.
Dining options:
Learn about Cornell Dining's meal plans. Questions? Contact us.