Townhouse Apartments
Housing Location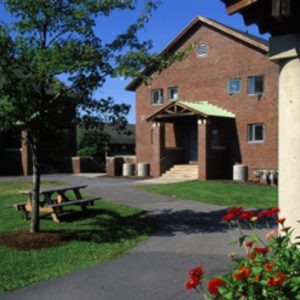 Townhouse Community, Ithaca, NY 14850, USA
The Townhouse Apartments are a great option for students who want the independence of apartment-style living, but also the convenience and support of living on campus. Starting 2024-2025, Townhouse Apartments will house sophomores, juniors and seniors.
The complex is made up of four-person and six-person townhouses, each featuring two or three double bedrooms, a large living room and kitchen, and a bathroom. Most are two-story; some are single level. Residents of the Townhouses have their own community-center building, a focal point of activities, programs, and socializing. They also are just across the street from Robert Purcell Community Center and have easy access to its facilities, including the Marketplace Eatery dining room and the Bear Necessities convenience store. 
Transfer students who live in the Townhouse Apartments are generally assigned to apartments with other new transfer students.
Explore the Townhouses community pages in CampusGroups.
Community features:   
300+ residents 
Located on North Campus 
4- and 6-person townhouse apartments, each with 2-3 double bedrooms, a large living room and kitchen, and a bathroom (residents pay a special Townhouse Double rate)  
A community-center building with a TV/social lounge, study lounge, piano, kitchen, and laundry facilities 
Bedrooms contain, for each occupant: an extra-long twin bed, a closet and a bureau (or wardrobe/bureau combination), a desk and desk chair, a desk lamp, a wastebasket, and floor carpeting 
Wireless Internet access 
Townhouse Apartments' rooms have manually controlled air conditioning. 
Townhouse Apartment residents must test their carbon monoxide detectors weekly.
Mail and packages:
Visit the Service Center website for student mail and package information.
Faculty involvement:
The Townhouses Apartments have a number of Faculty and Community Fellows that provide students with opportunities to explore and cultivate their academic, intellectual, and cultural interests. You will find them attending events in your building, eating with students in the dining room, and leading on and off-campus trips to lectures, plays, films, concerts, and regional points of interest.  
Dining options:
Learn about Cornell Dining's meal plans.
Questions? Contact us.