Cascadilla Hall
Housing Location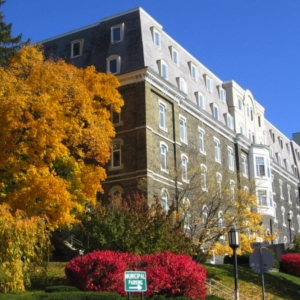 Cascadilla Hall, Ithaca, NY 14850
Cascadilla Hall is located in the heart of the vibrant South Campus community, close to the Schwartz Center for Performing Arts, and to restaurants, coffee shops, stores, and social gathering spots. Built in 1864, Cascadilla was acquired by Ezra Cornell as the university's first residence hall. 
South Campus residence halls enjoy close proximity to the intellectual, cultural, and culinary perks of West Campus, while maintaining their own unique character and independence. Special programming and activities abound, offering lots of opportunities for social interaction. 
Community features:
Open to transfer and upperlevel students 
366 residents 
Located in Collegetown 
Single and double rooms arranged along a corridor; floors are mixed gender 
Lounges, study areas, a kitchen, a piano room, and laundry facilities 
Houses the Service Center for all Collegetown area residence halls 
Bedrooms contain, for each occupant: an extra-long twin bed, a closet and a bureau (or wardrobe/bureau combination), a desk and desk chair, a desk lamp, a wastebasket, and floor carpeting 
Wireless Internet access 
Cascadilla Hall rooms do not have air conditioning. Faculty involvement:
South Campus Residence Halls have a number of Faculty and Community Fellows that provide students with opportunities to explore and cultivate their academic, intellectual, and cultural interests. You will find them attending events in your building, eating with students, and leading on and off campus trips to lectures, plays, films, concerts, and regional points of interest. 
Mail and packages:
Visit the Service Center website for student mail and package information.
Dining options:
Sign up for one of Cornell Dining's four traditional Meal Plan Options if you plan to eat all or most meals on campus (includes Cornell Dining's dining rooms, West Campus Dining Rooms, and retail dining facilities) 
Sign up for the Flex 10/500 Plan or Off-Campus Value Plan if you plan to eat a limited number of meals on campus (provides meals in Cornell Dining's dining rooms and West Campus Dining Rooms, plus tax-exempt Big Red Bucks to be used in any Cornell Dining facility) 
Use City Bucks for cashless food purchases if you plan to eat some or all meals at off-campus establishments (you may use City Bucks in addition to, or instead of, a meal plan or debit plan).
Note that second-year students must maintain a Bear Unlimited or Bear Traditional meal plan as part of Cornell's two-year residence and dining requirement. 
Learn about Cornell Dining's meal plans.
Questions? Contact us.