Schuyler House
Housing Location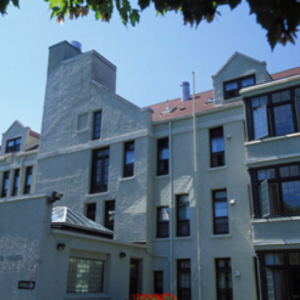 Schuyler House, Ithaca, NY 14850
If you want the experience of living off campus combined with the perks of on-campus housing, Schuyler House may be the place for you. Located just below Collegetown, Schuyler House is convenient to classes and on-campus eateries, while also being rooted in the life and culture of Collegetown and downtown Ithaca.

Schuyler House is a 15- to 20-minute uphill walk to Central Campus. Frequent buses stop at Schuyler House (three to eleven per hour, depending on the time of day) for the 5-minute ride to campus. All Schuyler House residents receive a free bus pass.
Community features: 
Open to undergraduate transfer students and upperlevel students 
125 residents 
Located between South Campus and downtown Ithaca 
Mostly singles, with some doubles and a few triples; rooms arranged along corridors with shared bathrooms on each floor 
Lounges, TV rooms, a study room, kitchen facilities on each floor, and a laundry room 
Bedrooms contain, for each occupant: an extra-long twin bed, a closet and a bureau (or wardrobe/bureau combination), a desk and desk chair, a desk lamp, a wastebasket, and floor carpeting  
Wireless Internet access 
A free bus pass for all residents
Schuyler House rooms do not have air conditioning.
Faculty involvement:
South Campus residence halls have a number of Faculty and Community Fellows that provide students with opportunities to explore and cultivate their academic, intellectual, and cultural interests. You will find them attending events in your building, eating with students, and leading on and off campus trips to lectures, plays, films, concerts, and regional points of interest.
Mail and packages:
Visit the Service Center website for student mail and package information.
Dining options:
Sign up for one of Cornell Dining's four traditional Meal Plan Options if you plan to eat all or most meals on campus (includes Cornell Dining's dining rooms, West Campus Dining Rooms, and retail dining facilities) 
Sign up for the Flex 10/500 Plan or the Off-Campus Value Plan if you plan to eat a limited number of meals on campus (provides meals in Cornell Dining's dining rooms and West Campus Dining Rooms, plus tax-exempt Big Red Bucks to be used in any Cornell Dining facility) 
Use City Bucks for cashless food purchases if you plan to eat some or all meals at off-campus establishments (you may use City Bucks in addition to, or instead of, a meal plan or debit plan) 
Note that second-year students must maintain a Bear Unlimited or Bear Traditional meal plan as part of Cornell's two-year residence and dining requirement.
Learn about Cornell Dining's meal plans.
Questions? Contact us.