Court-Kay-Bauer Hall
Housing Location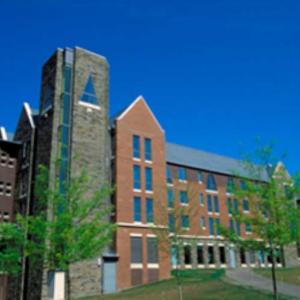 Court-Kay-Bauer Hall, Ithaca, NY 14850, USA
Court-Kay-Bauer (CKB) Hall is a combination of three connected residence halls that make up one close-knit community. These four-story modern buildings opened their doors in 2001.
Court-Kay-Bauer's first-floor community spaces include expansive lounges, a large kitchen, laundry facilities, vending machines, a bike storage room, and multipurpose rooms where classes meet during the week. The second, third, and fourth floors have single and double rooms along hallways with shared bathrooms, plus a study lounge, TV lounge, and kitchen for each floor. 
Some of Court-Kay-Bauer's program traditions include First Years on Ice, Ice Cream Crawl, Chinese New Year celebration, weekly study break socials, and a yearly bus trip to the Corning Museum of Glass. Residents can also find math tutoring right in their building, and Teaching Assistants sometimes hold office hours in the multipurpose room on the first floor. 
Explore the Court-Kay-Bauer community pages in CampusGroups.
Community features:  
Open to first-year students 
275+ residents 
Located on North Campus 
Single and double rooms arranged along corridors, with shared bathrooms 
Lounges, study areas, shared kitchens, and laundry facilities 
Bedrooms contain, for each occupant: an extra-long twin bed, a closet and a bureau (or wardrobe/bureau combination), a desk and desk chair, a desk lamp, a wastebasket, and floor carpeting 
Wireless Internet access 
* The typical double room has both beds on the floor when students move in. Students may request to have their beds bunked.
CKB Hall rooms have system controlled air circulation. 
Faculty involvement:
Dawn Schrader, Associate Professor in the Department of Communication, is the Faculty-in-Residence for Court-Kay-Bauer. She lives in an apartment in the building and regularly spends time with student members of the Court-Kay-Bauer community.  
CKB also has a number of Faculty and Community Fellows that provide students with opportunities to explore and cultivate their academic, intellectual, and cultural interests. You will find them attending events in your building, eating with students in the dining room, and leading on and off campus trips to lectures, plays, films, concerts, and regional points of interest. 
Mail and packages:
Visit the Service Center website for student mail and package information.
Dining options:
Learn about Cornell Dining's meal plans.
Questions? Contact us.