Clara Dickson Hall
Housing Location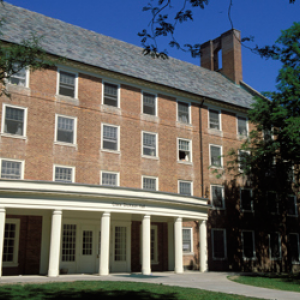 21 Northcross Rd, Ithaca, NY 14850, USA
Clara Dickson Hall is the largest residential community on North Campus, housing more than 460 students. Starting 2024-2025, Clara Dickson will house sophomores, juniors and seniors.
A large and beautiful Colonial-style brick building, Dickson is centrally located and is right next to a popular sand volleyball court. Dickson's Residence Hall Director, Faculty-in-Residence member, and student Resident Assistants plan and host plenty of programs and activities for all interests, including volleyball tournaments, an annual trip to Niagara Falls, bowling, brownie nights, picnics in the Cornell Botanic Gardens, and a ropes-course challenge.
Dickson Hall is also home to the Multicultural Living Learning Unit (McLLU), one of Cornell's themed Program Houses.
Explore the Clara Dickson Hall community pages in CampusGroups.
Community features:  
Open to first-year students 
460+ residents 
Located on North Campus 
Single, double, and triple rooms arranged along corridors, with shared bathrooms 
Lounges, study areas, a piano, shared kitchens, and laundry facilities 
Bedrooms contain, for each occupant: an extra-long twin bed, a closet and a bureau (or wardrobe/bureau combination), a desk and desk chair, a desk lamp, a wastebasket, and floor carpeting 
Wireless Internet access 
Dickson Hall rooms do not have air conditioning.  ​​​​

Faculty involvement:
Connie Yuan, Associate Professor in the Department of Communication, is the Faculty-in-Residence for Dickson Hall and McLLU. She lives in an apartment in the building and regularly spends time residents of the Dickson/McLLU community. 

Dickson and McLLU also have a number of Faculty and Community Fellows that provide students with opportunities to explore and cultivate their academic, intellectual, and cultural interests. You will find them attending events in your building, eating with students in the dining room, and leading on and off campus trips to lectures, plays, films, concerts, and regional points of interest. 

Mail and packages:
Visit the Service Center website for student mail and package information.
Dining options:
Learn about Cornell Dining's meal plans.
Questions? Contact us.