Holland International Living Center (HILC)
Housing Location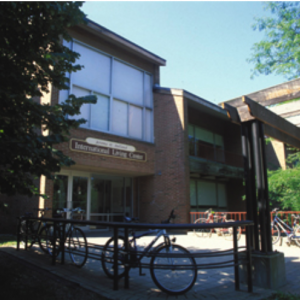 Holland International Living Center, Ithaca, NY 14850
Students from all over the world form a global community at the Jerome H. Holland International Living Center. One hundred sixty-eight students, international students as well as non-international students with a passion for cross-cultural exchange -- all with an interest in international issues -- share their cultures and traditions at HILC, and provide support and assistance to Cornell's international undergraduate students.HILC is a home away from home for its residents, offering friendship, support, and a respectful community. To accommodate the needs of international students, HILC is the only undergraduate residence hall that remains open during winter break for residents who need to stay on campus.
Political, economic, social, and cultural events and discussions are common at HILC, but students also take time to relax and have fun. With a student-run Council, there is always something fun and exciting to do at HILC.
Founded in 1970, HILC was renamed in 1985 in honor of distinguished alumnus Jerome H. Holland and his commitment to global understanding, respect for human rights, and the pursuit of education.
Explore the HILC community pages in CampusGroups.
Community features:
Open to first-year, transfer, and upperlevel students 
168 residents 
Located on North Campus, near Robert Purcell Community Center and Appel Commons 
All student rooms are within clusters. Each cluster of rooms includes one double, one triple, two singles and a shared bathroom. Clusters are single gender; floors are mixed gender.
Several clusters make up a "unit."  Each unit has a study room, social lounge and kitchen. 
Large community lounge with TV and ping pong table
Bedrooms contain, for each occupant: an extra-long twin bed, a closet and a bureau (or wardrobe/bureau combination), a desk and desk chair, a desk lamp, a wastebasket, and floor carpeting 
Wireless Internet access
HILC rooms do not have air conditioning.
Faculty involvement:
HILC has several Faculty and Community Fellows that provide students with opportunities to explore and cultivate their academic, intellectual, and cultural interests. You will find them attending events in your building, dining with students, and leading on and off campus trips to lectures, plays, films, concerts, and regional points of interest.
How to apply for residency: Rising junior and rising senior students may select to live in a program house as part of the fall Housing Selection process while rising sophomores can select during their General Room Selection process in the spring. New students can indicate their preference to live in a program house on their New Student Housing Application.
*Please note in some years when housing space is limited and there are available spaces in the Jerome H. Holland International Living Center (HILC), some students who did not preference housing in HILC may be placed there. While the HILC community is intended for all students interested in cross-cultural exchange, all students of all identities and interests are welcome. Regardless of their housing preference, all students residing in HILC will have the opportunity to connect with each other, build community, and grow. Finally, given the theme of HILC, all residents are expected to be thoughtful of the intention of the space and engage with every student in a respectful and open-minded manner.  
Mail and packages:
Visit the Service Center website for student mail and package information.
Dining options:
Learn about Cornell Dining's meal plans.
Questions? Contact us.