Ujamaa Residential College
Housing Location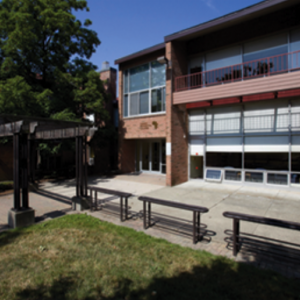 Ujamaa Residential College, Ithaca, NY 14850
Ujamaa (pronounced "OO-juh-muh") celebrates the rich and diverse heritage of Black people in the United States, Africa, the Caribbean, and other regions of the world.
The word Ujamaa in the East African language of Kiswahili means the process of working together as an extended family to build and maintain a cohesive community. This theme characterizes the atmosphere at Ujamaa Residential College, a friendly, warm, and cooperative living environment that supports its members and helps students excel at Cornell.
Since its founding in 1972, Ujamaa has supported its mission through a variety of activities and events such as lectures by internationally renowned speakers, dinners hosted by affiliated faculty members, celebrating Black History Month, and hosting the State of Black America Conference, the annual Festival of Black Gospel, and the weekly student-organized forum Unity Hour - at which lively and educational discussions are never in short supply.
Strong associations with Ujamaa often extend after graduation, resulting in mentor-type relationships that become an extension of the entire living and learning experience. Ujamaa's vast and loyal alumni network becomes a valuable resource for information and advice on academic decisions, career choices, and personal goals.
Explore the Ujamaa community pages in CampusGroups.
Community features:  
Open to first-year, transfer, and upperlevel students 
144 residents 
Located on North Campus, near Robert Purcell Community Center and Appel Commons, and within a short walking distance to the Africana Studies and Research Center 

All student rooms are within clusters. Each cluster of rooms includes one double, one triple, two singles and a shared bathroom. Clusters are single gender; floors are mixed gender.

Several clusters make up a "unit."  Each unit has a study room, social lounge and kitchen.

TV/social lounges, a computer room, study lounge, a piano, and a library 
Bedrooms contain, for each occupant: an extra-long twin bed, a closet and a bureau (or wardrobe/bureau combination), a desk and desk chair, a desk lamp, a wastebasket, and floor carpeting 
Wireless Internet access
Ujamaa Residential College rooms do not have air conditioning.
Faculty involvement:  Ujamaa has several Faculty and Community Fellows that provide students with opportunities to explore and cultivate their academic, intellectual, and cultural interests. You will find them attending events in your building, dining with students, and leading on and off campus trips to lectures, plays, films, concerts, and regional points of interest.
How to apply for residency: Rising junior and rising senior students may select to live in a program house as part of the fall Housing Selection process while rising sophomores can select during their General Room Selection process in the spring. New students can indicate their preference to live in a program house on their New Student Housing Application.
*Please note in some years when housing space is limited and there are available spaces in the Ujamaa, some students who did not preference housing in Ujamaa may be placed there. While the Ujamaa community is intended to celebrate Black culture and create a space for Black students to find community with those who have similar experiences and interests, all students of all identities are welcome. Regardless of their housing preference, all students residing in Ujamaa will have the opportunity to connect with each other, build community, and grow. Finally, given the theme of Ujamaa, all residents are expected to be thoughtful of the intention of the space and engage with every student in a respectful and open-minded manner.  
Mail and packages:
Visit the Service Center website for student mail and package information.
Dining options:
Learn about Cornell Dining's meal plans
Questions?  
For more information about Ujamaa, call (607) 255-4922 or email ujamaa@cornell.edu. To learn more about the House and meet Ujamaa residents, attend Unity Hour on Sunday evenings at 8:30pm in Ujamaa's main lounge.