Ecology House
Housing Location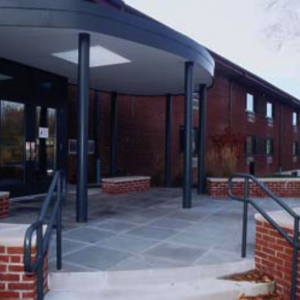 Ecology House, Ithaca, NY 14850
Sustainability, environmental justice, plants and animals, oh my!  Whether you're already an environmental changemaker or you're just learning about your ecological footprint, you'll be welcome here.  The nearly 100 residents of Eco have a variety of majors, but are all connected through their interest in protecting our environment in ways that promote an educated, caring, and just society. Students who live here vary in their experience saving the planet, some helping shape fossil fuel laws in their home country and some just learning about concepts like phantom power. Eco has multiple avenues for residents to get involved with environmentalism, from transitioning the hall to solar power to offering 10+ recycling options to maintaining a Swap Shop for residents to reuse items within the community. One of the community's favorite traditions is the annual retreat in the Adirondacks, and programming is abundant through our seven house committees: EcoAdventures, EcoCreates, EcoEats, EcoServes, Project Greenhouse, Social Justice Committee, and the Sustainability Committee. 
Explore the Eco House community pages in CampusGroups.
Community features:
Open to first-year, transfer, and upper-level students 

96 residents 
Located on North Campus off of Triphammer Road, near the Africana Studies Library 
All double rooms, each with a private bathroom 
TV room; large social lounge with pool table, and ping pong; piano; lobby with sitting and meeting areas; laundry; large kitchen with pantry and fridge storage; printer; two study lounges; woodshop; large backyard and patio for campfires, hammocks, and occasional backyard camping.
Bedrooms contain, for each occupant: an extra-long twin bed, a closet (or wardrobe) and a dresser, a desk and desk chair, a desk lamp, a recycling bin, and a mini-bin for landfill waste. Roommates share floor carpeting, a floor lamp, a compost bin, a Terracycling bin, overhead lighting, a heating and air conditioning unit, and a bathroom with a full-size shower with curtain, toilet, sink and vanity, and medicine cabinet. Pictures of rooms and furniture (with dimensions) can be found on the Eco CampusGroups community pages above. 
Sustainable community amenities: Textbook Lending Library, Bike Share program and workshop, Swap Shop, onsite greenhouse, growing apple tree orchard, Cora Balls and drying racks in the laundry room, and a Sustainable Cleaning Station with environmentally friendly cleaning products. Upper-level Ecohousers also receive a free bus pass to encourage sustainable and accessible travel around town (all Cornell first-years already receive a free bus pass for their first year).
Wi-fi internet access is provided throughout. 
Ecology House rooms have manually controlled air conditioning and heating in each room and residents are expected to make environmentally-friendly temperature choices.
Faculty involvement:
Ecology House has several Faculty and Community Fellows that provide students with opportunities to explore and cultivate their academic, intellectual, and cultural interests. You will find them attending events in your building, dining with students, and leading on and off campus trips to lectures, plays, films, concerts, and regional points of interest. 
How to apply for residency: Rising junior and rising senior students may select to live in a program house as part of the fall Housing Selection process while rising sophomores can select during their General Room Selection process in the spring. New students can indicate their preference to live in a program house on their New Student Housing Application.
Dining options:
Learn more information about all Cornell Dining meal plans. 
Mail and packages:
Visit the Service Center website for student mail and package information.
Questions?
For more information about Ecology House, call (607) 255-1094 or email ecologyhouse@cornell.edu.