Carl Becker House
Housing Location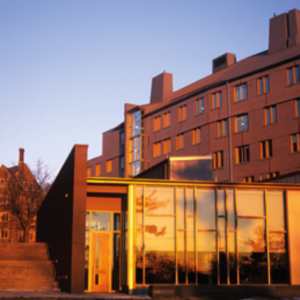 Carl Becker House, Ithaca, NY 14850
At Becker House, students create an engaged community of their own and where they can explore socially, culturally and academically far beyond their major. Named for distinguished professor of American and European history, Carl Lotus Becker, the House brings the mission of "learning where you live" alive.
House Professor and staff-led semester-long programs that meet weekly are at the core of Becker's programming structure and bring residents, House Fellows, Cornell faculty and high-level administrators, as well as community leaders, together.
The Becker House team strives to integrate and connect the intellectual and the experiential in our residents' everyday lives while building a home within their large Cornell world. Becker's programming structure includes multiple resident-organized activities and weekly staff-led and HPD/AD-directed programming.
Residents in Becker's Active Citizens Program organize around 20 events each semester ranging from video-gaming, movie nights and cooking, to karaoke, bubble tea and board games, potting succulents, DIY projects and ice cream socials.
Community features: 
Open to transfer and upper-level students 
350+ residents (approximately 65% sophomores, 25% juniors, and 10% seniors, with about 15% of the total population being transfer students) 
House Office for mail and key support, dining room, library, TV lounge, and laundry facilities
Single and double rooms along hallways with shared bathrooms, plus 45 five-person suites, each with its own bathroom and common space.  
Bedrooms contain, for each occupant: an extra-long twin bed, a closet and a bureau (or a wardrobe/bureau combination), a desk and a desk chair, a desk lamp, a wastebasket, and floor carpeting 
Wireless Internet Access 
Carl Becker House rooms have air conditioning. 
House Leadership: 
Each House in the West Campus House System is overseen by a live-in House Professor-Dean, a tenured faculty member who is the leader of the House's intellectual program, and a live-in Assistant Dean, a student affairs professional who directs the multiple functions of the House and shares responsibility with the House Professor-Dean for the realization of the House's educational mission.
Becker House Professor Dean: Dr. Neema Kudva, Associate Professor, City and Regional Planning
Becker House Assistant Dean: Amanda Carreiro
Becker House also has approximately 30 House Fellows who are associated with the community and interact with residents regularly. 
Mail and packages:
Visit the Service Center website for student mail and package information.
Dining options:
Residency in the West Campus House System includes a commitment to a House Meal Plan. Questions? Contact us. 
Housing Population Type: