Alice Cook House
Housing Location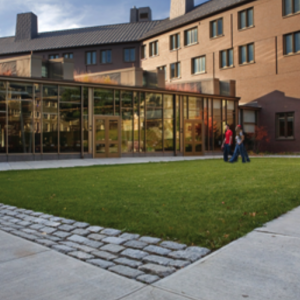 Alice Cook House, Ithaca, NY 14850, USA
Alice Cook House opened in August 2004 and was the first of five Houses in the West Campus House System, Cornell University's residential college initiative. The House was named in honor of Cornell faculty member Alice Hanson Cook (1903-1998).
Cook House is a vibrant living and learning community of nearly 400 residents who reside in five buildings at the north end of West Campus: Cook-Main, North Baker, Baker Tower, Boldt Hall, and Boldt Tower. Together we are a community of students, faculty, and staff sharing a common life rich in intellectual, cultural, artistic, and social opportunities.
The student staff collaborates with residents and House Fellows to create relevant and engaging programming, including our Signature Series of Make-Something-Mondays (a hands-on, creative project each week), Wednesday House Dinner, and Fun Fridays, as well as topical programming and social events.
For more information about the Cook House community, visit the Alice Cook House website.  For more information about the West Campus community, visit the West Campus House System website.  
Community features: 
Open to transfer and upper-level students 
Nearly 400 residents, including approximately 120 in the main building and over 250 in the Gothic buildings.
Made up of approximately 65% sophomores, 25% juniors, and 10% seniors, with about 20% of the total population being transfer students.
Main building has a House Office for mail and key support, dining room, library, family room, and laundry facilities. All Gothic buildings also have lounge spaces, and some have their own laundry rooms as well.
Single, double, triple, and quad rooms along hallways with shared bathrooms, plus 16 five- to seven-person suites, each with its own bathroom and sitting room. Main building has suite style rooms as always as hallway singles and doubles. Triples and quads are only in the Gothics, along with singles and doubles.
Bedrooms contain, for each occupant: an extra-long twin bed, a closet and a bureau (or wardrobe/bureau combination), a desk and desk chair, a desk lamp, a wastebasket, and floor carpeting.
Wireless Internet access.
Cook House rooms do not have air conditioning.
House Leadership:
Each House in the West Campus House System is overseen by a live-in House Professor-Dean, a tenured faculty member who is the leader of the House's intellectual program, and a live-in Assistant Dean, a student affairs professional who directs the multiple functions of the House and shares responsibility with the House Professor-Dean for the realization of the House's educational mission.
Cook House Professor Dean: Chantal Thomas, ct343@cornell.edu
Cook House Assistant Dean: Steven King
Language House Residence Hall Director: Jaelyn Millon
Cook House also has approximately 30 House Fellows who are associated with the community and interact with residents regularly. 
Mail and packages:
Visit the Service Center website for student mail and package information.
Dining options:
Residency in the West Campus House System includes a commitment to a House Meal Plan. Questions? Contact us.