Hans Bethe House
Housing Location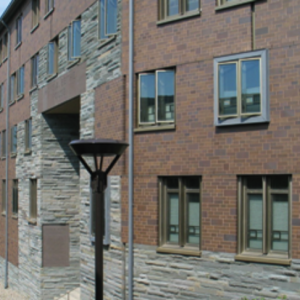 Hans Bethe House, Ithaca, NY 14850
Since 2007, Hans Bethe House has provided Cornell sophomores, juniors, and seniors both an introspective home for personal growth and intellectual curiosity and an outward-facing hub for exploring the breadth and diversity of the Cornell community. The community includes a Main building and a Gothic building, McFaddin Hall, which houses Bethe House residents.
Our namesake, Nobel Prize winner Professor Hans A. Bethe, was an esteemed member of the Department of Physics for more than forty years, arriving as a refugee from Germany in 1935 and making Ithaca a home for his remarkable career. He was awarded the Nobel Prize in 1967 for his work on energy production in stars.
For more than a decade, Bethe House has enjoyed a long tradition of student-initiated programs and student leadership. Our Active Citizens, House Council, and student staff organize events big and small, from research-supported wellness activities to baking cookies and enjoying a cup of tea and conversation. 
From engaging in intimate discussions on the couches of the House Professor's apartment, to exploring the vast collections of Cornell's libraries, these informal yet transformative interactions make living in Bethe an irreplaceable experience.
For more information about the Bethe House Community, visit the Bethe House website.  For more information about the West Campus community, visit the West Campus House System website.
Community features:
Open to transfer and upper-level students 
350+ residents, approximately 315 in the main building, and 60 in McFaddin Hall 
made up of approximately 65% sophomores, 25% juniors, and 10% seniors, with about 15% of the total population being transfer students 
Main building has a House Office for mail and key support, dining room, library, TV lounge, and laundry facilities. All Gothic buildings also have lounge spaces, and some have their own laundry rooms as well. 
Single, double, and quad rooms along hallways with shared bathrooms, plus five- to seven-person suites, each with its own bathroom and sitting room. Main building has suite style rooms as always as hallway singles and doubles. Quads are only found in the McFaddin, along with singles and doubles.   
Bedrooms contain, for each occupant: an extra-long twin bed, a closet and a bureau (or a wardrobe/bureau combination), a desk and a desk chair, a desk lamp, a wastebasket, and floor carpeting 
Wireless Internet Access 
Hans Bethe House rooms do not have air conditioning. 
House Leadership: 
Each House in the West Campus House System is overseen by a live-in House Professor-Dean, a tenured faculty member who is the leader of the House's intellectual program, and a live-in Assistant Dean, a student affairs professional who directs the multiple functions of the House and shares responsibility with the House Professor-Dean for the realization of the House's educational mission.
Dale R. Corson House Professor-Dean: Andrew Hicks, Ph.D., Associate Professor of Music and Medieval Studies
Bethe House Assistant Dean: Perdita Das-Humphrey
Bethe House also has approximately 30 House Fellows who are associated with the community and interact with residents regularly. 
Mail and packages:
Visit the Service Center website for student mail and package information.
Dining options:
Residency in the West Campus House System includes a commitment to the House Meal Plan. Questions? Contact us. 
Housing Population Type: