Signature Programs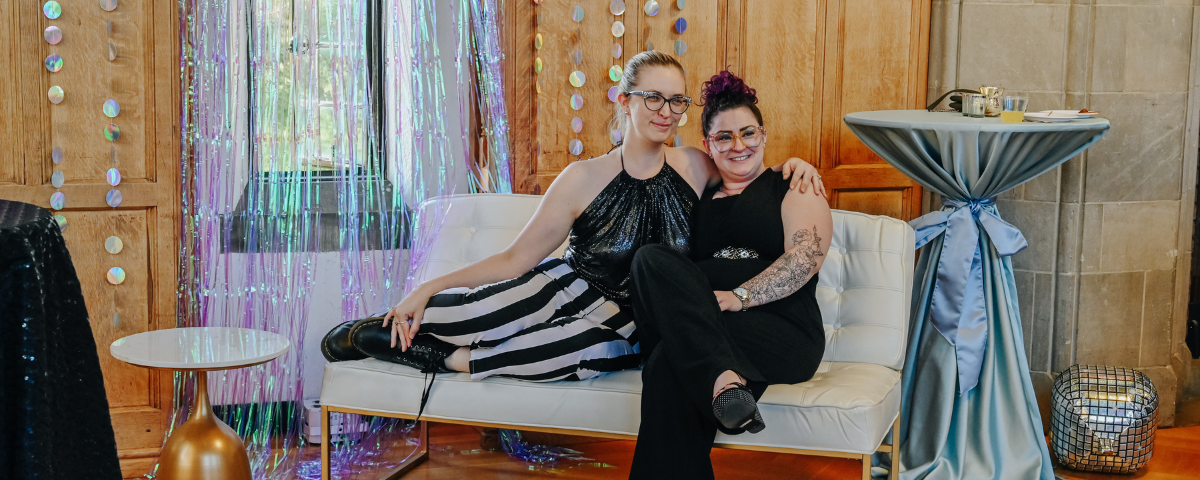 The LGBT Resource Center at Cornell provides a variety of longitudinal programs to the campus community, centered around our five pillars of service: advocacy, education, outreach, community, and support.

Check out the LGBT Resource Center's Campus Groups calendar of events for specific dates, times, and locations of upcoming programs, or click through the different options in our menu to learn more!
Programs:
Ace/Aro Programming
Asexual and Aromantic people are historically underrepresented in the LGBTQ+ community. Asexuality exists on a spectrum, composed of sexual orientations that experience little to no sexual attraction and/or someone who experiences sexual attraction under specific circumstances. Aromanticism is also a spectrum, composed of individuals who experience little to no romantic attraction. Each semester we host programs that specifically support this community, be on the lookout for our upcoming Ace/Aro events on campus groups or Instagram.  
Bi+ Programming
Bisexual, pansexual, queer, nonmonosexual, or multispectrum attraction; whatever you call it, according to this 2020 Gallup poll, people who are attracted to multiple genders are the fastest growing and largest subsection of the LGBTQ+ community. Our bi+ programming creates affinity space to support and empower multispectrum attracted students. September is Bi+ Visibility Month, but we program all year long! 
Spectrums of Color
Spectrums of Color is our program series to support, empower, and create community for Queer and Trans, Black Indigenous and People of Color (QTBIPOC) students. It includes keynotes, workshops, and social events. In the past, we have had speakers including Kalki Subramaniam, an Indian transgender activist, Ashlee Marie Preston, the first trans woman to become editor-in-chief of a national publication, and Chetna Mehta a wellness educator. 
Trans Empowerment Series
Transgender Empowerment is our program series to support, empower, and create community for transgender, nonbinary, and gender-nonconforming students. It includes keynotes, workshops, and social events. We've had speakers like performer Indya Moore, trans scholar Z Nicolazzo, and consultants from the Transgender Training Institute, as well as host annual name change clinics, legal workshops, and more. We've held gender-affirming clothing swaps in the past and now host a clothing lending closet in the Center.  
Growthshops Discussion Series
Growthshops is a cohort-based dinner series designed to explore and promote personal growth in LGBTQ+ identities. This 6-week series was created to allow time to build trust in a small community cohort to allow for deeper growth and sharing around topics including LGBTQ+ identity development, coming out, internalized oppression, and self-care. Sign-ups open in September and February every school year for on-campus groups.
Queer Sexual Wellness and Relationship Education
The QSWARE series is a group of workshops intended to help LGBTQ+ students learn the healthy foundations of queer sex, relationships, and community while also providing preventative information around sexual and relationship violence. Our workshops include Queer Sex Ed 101 and Healthy Queer Relationships. This series of workshops is presented through an asset-based lens to aid LGBTQ+ students in forming and maintaining healthy relationships and communities. Students may sign up for one, several, or all of the workshops offered through this series.
Queer Sex Ed: Join the LGBT RC for a workshop for LGBTQ+ students to learn about the things they never taught us in sex ed! How are types of condoms different? What's a dental dam? What even is queer sex? Come learn about all these questions and more at this interactive workshop! In addition to sex ed content, we will also discuss consent, communication, and things unique to queer relationships. 
Healthy Queer Relationships: Join the LGBT RC for a workshop for LGBTQ+ students to discuss the building blocks of relationships from relationship structures to how to begin and end a relationship, as well as the unique aspects of queer relationships. We'll answer questions from "how do we flirt?" and "where do we meet people?" to "how do I know if my relationship is healthy?" and "what do I do if it's not?"
Annual Events:
The LGBT Resource Center holds several large-scale annual events to celebrate and commemorate the LGBTQ+ community. These include:
Weeks of Welcome events for incoming students
Halloween Drag Show

 

Transgender Day of Remembrance Vigil in November
Lavender Graduation Ceremony for LGBTQ+ graduates
Lavender Graduation
Lavender Graduation is a ceremony that celebrates the achievements of graduating undergraduate and graduate and professional students in the lesbian, gay, bisexual, transgender, queer/questioning, intersex, and aspec (LGBTQIA+) community from Cornell University. 

Who participates in a Lavender Graduation? While Lavender Graduation celebrates the achievements of graduating students, this event is also an opportunity for family, friends, faculty, administrators, peers, allies, and significant persons to celebrate each student at the conclusion of their academic journey. Since this ceremony only occurs once a year, all graduating students from January 2023 to December 2024 are encouraged to participate. 
Lavender Graduation Awards: Each year, students, staff, and faculty are honored for the work they have done to continue making Cornell an inclusive and welcoming place. Here are the awards that are given and their significance.
Angel R. Hierro Lambda Award: Undergraduate, Graduate, and Professional Students 

The Greek letter Lambda was selected as a symbol by the Gay Activists Alliance of New York in 1970. In December 1974, the lambda was officially declared the international symbol for gay and lesbian rights by the International Gay Rights Congress and is known to signify unity under oppression. This award is given to those who have contributed extraordinary service to the LGBTQ+ community. Awardees will have demonstrated outstanding leadership skills and a commitment to bringing a spirit of unity to the LGBTQ+ community at Cornell University. 

Coalition Building & Community Activism Award: Undergraduate, Graduate, and Professional Students 

This award recognizes individuals who have utilized their skill and understanding of justice-related issues and advocacy to create broad-based coalitions and conversations amongst the LGBTQ+ community and others on campus. These Individuals have provided strong, enduring, and consistent advocacy over time to broaden awareness and understanding of LGBTQ+ issues at Cornell and have worked toward positive change on campus. 

 University Support Award 

This award is given to a faculty, staff, office, or department that has been the most supportive of the LGBTQ+ community within the past academic year.