Amy Somchanhmavong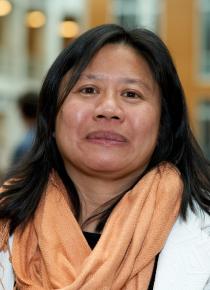 Associate Director, Global Community-Engaged Learning Programs
My role is to support Center's strategic efforts on global community engaged-learning, its global program's academic connections aligning with Engaged College strategy and Center's partnership with various campus units.
Quote that inspires Amy
"We never know how our small activities will affect others through the invisible fabric of our connectedness. In this exquisitely connected world, it's never a question of 'critical mass.' It's always about critical connections." Grace Lee Boggs
The best part of Amy's job
I have the best job. I get to learn, work and experience with students, faculty, and non-university community members what is possible.
Fun facts
I love paddling, small and big canoes, and I am a member of the Ithaca Dragon Boat Club.
I have been living and raising my family in Tompkins County for 20+ years in the traditional homeland of Gayogohó:nǫˀ. I believe that change can happen when folks respectfully and humbly connect by honoring each other's professional, academic and personal backgrounds.