Fath'Ma Shabani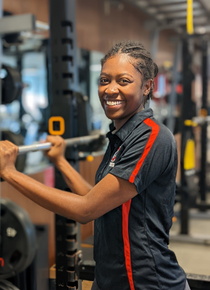 Meet Fath'Ma Shabani
College: CALS
Major: Landscape Architecture
Year: 2024
Campus Employment: Student Coordinator for Staff Development, previously, Fitness Monitor, Cornell Fitness Centers (CFC)
Career Readiness Competencies gained:
Professionalism

Technology
Communication
Leadership
Teamwork
Students work at campus jobs and internships ranging from office support to peer advisor to intramural referee -- many of which are hosted within Student & Campus Life. In the interview below, learn more about Fath'Ma Shabani, who is employed as a Student Coordinator for Staff Development at CFC.
Out of all the opportunities on campus, why did you choose this one?
I needed a job when I got on campus, and the Fitness Center was hiring. One of my friends was already working at the Fitness Center and he told me it was a good job, so I applied. However, I applied to be a Fitness Monitor, and one year later, I applied to be a Student Coordinator. This is more like a managerial position. I saw the description of the position and decided to apply.
Describe some of your responsibilities
For two semesters, I was a Fitness Monitor, and in that role, I monitored the gym. For this position, Fitness Monitors work in pairs. One person manages the swiping in, and the other person goes around to make sure everyone is being safe. Safety is a major focus of what we do.
In my current role, I work with the team of pro-staff during the hiring process to make sure everyone has a good onboarding process. It is a long, involved process because we don't interview hires, but rather the onboarding process serves in its place.
I help schedule training, send reminders to new hires, rate some of the things that they do, lead student assembly with the other Student Coordinators. And sometimes we pop in the Fitness Center to make sure everyone is doing what they are supposed to do. And if they are not doing something correctly, I let them know and record it. I am involved in the full cycle of a student employee's time at CFC.
I will also be responsible for interviewing in a search for new Student Coordinators.
What skills have you developed in your campus job?
Professionalism: 100% percent. I'm a student working with other students. Last year, I was a sophomore working with seniors and juniors, and my friends. I have to be professional. I have to know where the limit is between friendship and the job. The most difficult part of my job is working. friends.

It is hard to call upon them when they are in the wrong, and the only way I can go about it is by being professional. Another problem arises when I, as a sophomore, have to talk to upperclassmen. In these situations, I have to be professional. I also work with the pro-staff at the fitness center, so I have to be professional when we have meetings or just casual talk.
Technology: I help with the new music system. We used an app that I was not familiar with, but thanks to my job, I now know how to use it. I was also taught how to make videos for training, and this is a skill that is really important.
Communication: When I am talking to new hires, I have to be clear, send reminders, and know how to communicate with someone that does not know what I know. I might think something is easy to do, but that's because I have that information, so I have to know how to talk to someone that does not.
Leadership: Sometimes, I have to be the leader. I have to tell people what to do. I have to be the example.
Teamwork: I work with the other Student Coordinators. If we have a Student Assembly, we have to plan, we have to decide who is saying what, who is presenting what. If she misses something, how do I add that without interrupting her? How do I add something without overshadowing? The meeting is successful if both of us deliver what we're supposed to deliver and not just one of us.
What comes out of your position that most surprised you?
How much the pro-staff trusts me. In the role I have to play, I have to take initiative. I know what I have to do, and I also have to come up with how to do it sometimes. They trust me. Sometimes I question how I want to handle a situation with my boss, asking if I'm supposed to do something, and her answer is, "This is your role, and we know you're going to do OK. You have the power, and we trust you. If you see a need, fill the need."
What experiences or skills have you developed that you feel will help you down the road in your career?
Going forward, I would like to work for a construction company, as a construction manager. I will have to manage the scheduling, cost estimation, and planning of the construction of a site. A lot of what I do as a student coordinator involves scheduling and planning, so this is something I will take to my future jobs. I will also have to work with a supervisor, which is something that I already do in my current job.  When I write my resume, I have my internships on it, but I put this job as high as I put my internships because, honestly, this is what I'm going to do, just in a different environment.
What advice do you have for other students interested in an on-campus job?
There's always something to learn from a situation. When I took this job, I didn't know what I would learn. There is always something to get out of a student's job. So, go for it. And I've met amazing people.