Marla Love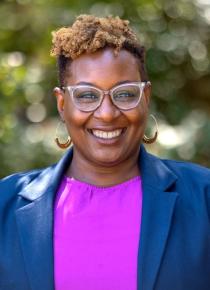 Robert W. and Elizabeth C. Staley Dean of Students
626 Thurston Ave., 207 Willard Straight Hall
Areas of Oversight: Care & Crisis Services; Diversity & Equity, Student Conduct and Community Standards
Dr. Marla Love serves as the Robert W. and Elizabeth C. Staley Dean of Students within the Division of Student and Campus Life (SCL). As part of SCL's broad vision of creating transformation through co-curricular programs and services, the Dean of Students provides vision and leadership for Care and Crisis Services, the Diversity Cultural Centers and Student Empowerment areas, and Student Conduct and Community Standards. Dean Love collaborates with campus partners to champion and advocate for initiatives that foster overall student well-being, academic and personal excellence, and strengthens a sense of inclusion and belonging across campus. Dean Love also serves as a Presidential Advisor on Diversity and Equity and provides strategic direction, guidance, and recommendations to the President and senior leadership on equity and inclusion issues. 
For nearly 20 years, Dean Love has been committed to the development of students through the holistic approach of meeting students where they are and providing resources that guide their social and academic growth. 
Dean Love was the first in her family to attend college and received an undergraduate degree in psychology from Calvin College, a master's degree in higher education from the University of Michigan, and a Ph.D. in higher education from Azusa Pacific University.