Marla Love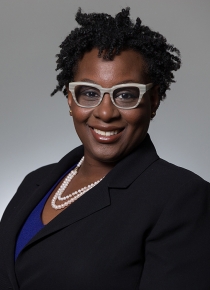 Robert W. and Elizabeth C. Staley Interim Dean of Students
626 Thurston Ave., 207 Willard Straight Hall
Areas of Oversight: Care & Crisis Services; Diversity & Equity, Student Conduct and Community Standards
Prior to her role as the Robert W. and Elizabeth C. Staley Interim Dean of Students, Marla Love served as Senior Associate Dean for Diversity and Equity working directly with the diversity and student empowerment units in the Office of the Dean of Students to create an intersectional programming model that engages our students in new and innovative ways.
She worked closely with our partners in Campus and Community Engagement, as well as in the Office of Academic Diversity Initiatives to produce powerful synergies and collaborations that enhance the student experience and deepen our commitment to underserved student communities. She also worked closely with the Senior Associate Dean for Care and Crisis Services to find ways to blend our approach to crisis management with an inclusion model that keeps Cornell on the leading edge of campus-wide crisis management. She also serves as chair of the university's Bias Assessment and Review Team (BART) for student only related bias incidents.
Prior to Cornell, Marla worked at Azusa Pacific University in Southern California, where she served as the Director of Graduate and Professional Student Affairs. Prior to her time at APU, she served as the Assistant Dean of Students at Scripps College, where she held broad oversight on a number of social justice programs, crisis management operations, and Title IX responsibilities. Marla has held numerous roles in higher education and worked across multiple regions of the country, including time at Phillips (Andover) Academy in Massachusetts. She holds a M.A. in higher education through the Center for the Study of Higher and Postsecondary Education at the University of Michigan and a B.A. in psychology from Calvin College in Michigan. Currently, Marla is pursuing a Ph.D. in higher education.