Salima Ali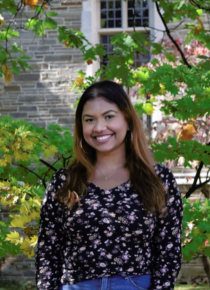 Meet Salima Ali
Hometown: Ozone Park, New York
College: ILR
Major: ILR
Year: 2023
Spotlight on Mental Health and Wellness
Promoting the health and well-being of all students is foundational for academic and life success. The Student Mental Health Collective works to advocate peer-to-peer discussion in the support and enhancement of student well-being, and reduce the stigma of mental illness.
As part of this discussion, SMHC is speaking to students from across campus to share experiences and helpful tips that support fellow Cornellians and fosters community around collective mental health on campus. This month, we highlight Building Resilience.
What does resilience mean to you?
I (wrongfully) used to think resilience meant nonstop grinding until I accomplished everything that people would deem as impressive. As I look back on my time at Cornell, I realize how resilient I am is not defined by how other people perceive me, but resilience is about how I handle the things that I personally think is important. Resilience is not about bouncing back from hardships in the fastest way possible, but it's about doing it in the healthiest ways possible.
When I think about times I've been resilient, it has not been the times where I've reacted the fastest to an obstacle, but it's been the times where I evaluate situations to see how I've been personally affected and thinking about what are the best possible solutions to ensure that I'm prioritizing the things that make me happy and ensure that my actions are positively benefiting the people around me as well.
How was transitioning to Cornell during your first year? What advice would you give yourself?
When people think about what the first year at college is like, there is a romanticized idea that freshman year will be one of the funnest times of your life. People associate freshman year with exploring new things, learning about yourself, making new friends and endless fun. And don't get me wrong, freshmen year was a great time, but there is a stigma around discussing how hard it is transitioning your freshman year. No one really talks about how stressful it is going from a phase in your life where everything is very structured and you're always following a routine that's been laid out for you to a phase in your life when you're given so much autonomy over your actions and what your every day schedule looks like.
It's especially worse that when you're trying to figure everything you and you look around and it seems like everyone has their life figured out, but you. If I could go back in time and talk to young freshman Salima, I would tell her to take a deep breath because as cheesy at it seems, everything ill work out. I would tell her that she does not have to jump into everything head first, but it's okay to take life in bite size pieces. I would also remind her that her happiness should always come first.
How do you take care of yourself and your mental health?
To take care of myself and mental health, I always have my schedule organized so there's me-time set aside. It's really important to me to have time dedicated to myself where I can just unplug. There's no shame in going to Jansen's and buying a bag of Cheetos after a long day and watching New Girl on Netflix. It's really important to set aside time to recharge.
What clubs are you involved in?
Kappa Alpha Pi Pre-Law Fraternity (President), Social Enterprise Group at Cornell (Co-President), Cornell Welcomes Refugees (Co-President), Caribbean Students' Association (Director of Programming), ILR Peer Mentor Lead, ILR Admissions Ambassador, ILR Student Government Association (Secretary)
What's your favorite spot-on campus or place to hang out with friends?
Libe Cafe
This series was developed on recommendations from Cornell's Mental Health Review. 
A wide range of supportive resources are available at mentalhealth.cornell.edu for students in need. An Ithaca-based Crisisline is available at 607-272-1616. Students in need of professional mental health support can call Counseling and Psychological Services (CAPS) at 607-255-5155 and employees can call the Faculty and Staff Assistance Program (FSAP) at 607-255-2673.