Nicole Huang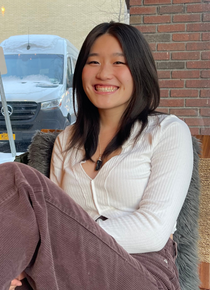 Meet Nicole Huang
Hometown: Long Island, NY
College: Human Ecology
Major: Human Development
Year: 2023
Spotlight on Mental Health and Wellness
Promoting the health and well-being of all students is foundational for academic and life success. The Student Mental Health Collective works to advocate peer-to-peer discussion in the support and enhancement of student well-being, and reduce the stigma of mental illness.
As part of this discussion, SMHC is speaking to students from across campus to share experiences and helpful tips that support fellow Cornellians and fosters community around collective mental health on campus. This month, we highlight Social Wellness.
What does social wellness mean to you? Why is it important?
Social wellness means having a support system and feeling a sense of belonging.Social wellness is extremely important to me because I would not be who or where I am without my friends and family. I could not be more grateful for my personal relationships because they have supported me through my lows, celebrated with me during my highs, and stood by me for everything in between. Additionally, these social connections have helped me grow into myself over the years by bringing value into my life and making me feel comfortable enough to be my true self.
How have you handled setbacks when it comes to finding community and feeling like you belonged?
I think an aspect of social wellness that I struggled with a lot was recognizing when to let go of relationships that weren't bringing value to my life or those that were actively unhealthy. It can be upsetting and scary to think about not being as close with a friend as before, but growing apart is natural and isn't always a bad thing. Instead of viewing these as losses, I try to reflect on what these relationships brought to my life (good andbad). Through reflection, I have gained a better understanding of personal expectations I have for my relationships and learned to prioritize the relationships that meet these expectations, and it's those relationships that make me feel supported and likeI belong.
How do you balance social connections with academics and other priorities in your life?
I try to balance my social connections with other priorities by allotting time in my schedule to spend time with friends. From grabbing a meal together to having a movie night, these plans contribute to my overall well-being by giving me a break from my stressful schedule and preventing myself from getting overwhelmed by my other priorities. Also, I personally enjoy spending a lot of quality time with other people, so even during my busy weeks, I find time to be around my friends which usually just entails doing work together.
What clubs are you involved in?
Cornell Minds Matter; Peer Leader at the Tatkon Center; Kappa Phi Lambda
What's your favorite spot-on campus or place to hang out with friends?
MVR Commons [in Martha Van Rensselaer Hall]
This series was developed on recommendations from Cornell's Mental Health Review. 
A wide range of supportive resources are available at mentalhealth.cornell.edu for students in need. An Ithaca-based Crisisline is available at 607-272-1616. Students in need of professional mental health support can call Counseling and Psychological Services (CAPS) at 607-255-5155 and employees can call the Faculty and Staff Assistance Program (FSAP) at 607-255-2673.