Janet Shortall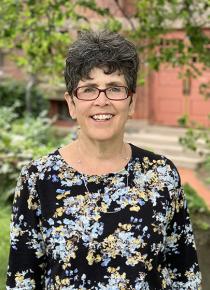 Associate Dean of Students
Janet is an Associate Dean of Students, member of the Care and Crisis Services Team, within the Office of the Dean of Students. A founding member of the University Crisis Management Team and the Community Support team, she now oversees the Crisis Management Team.
The daughter of a career naval officer, Janet attended 10 separate schools before landing in upstate NY where, as a first-generation college student, she completed a BA in Sociology from SUNY Oneonta. She subsequently completed graduate studies in Religious Studies at Fordham University with a focus on adolescent development. After completing seminary education in Berkeley, CA, with a concentration in gender race and class studies, Janet traveled throughout New York State on a Department of Health grant, setting up support groups for survivors of traumatic brain injury and their family members. This experience inspired Janet to attend years of trainings focused on how best to care for and respond to individuals seeking to live lives beyond just surviving.
Janet's professional background includes 25+ yea of service to Cornell University, where she has served on a wide range of university committees and task forces, including the Advisory Council for the Status of Women, Cornell Advocates for Rape Education, as well as serving as the chaplain to the Cornell Police. Prior to her current role, Janet advised EARS (Empathy, Assistance and Referral Service), Cornell's Peer to Peer counseling and training program, as well as serving as Associate Director of Cornell United Religious Work, where she fostered interfaith dialogue and joint programming between the 30 affiliated chaplaincies. While at CURW she supervised Cornell's first Tibetan Buddhist chaplain and Society of Friends (Quaker) chaplain intern. In 2007, she was the lead organizer for the first interfaith service welcoming His Holiness the Dalai Lama to Ithaca. Additionally, Janet created the popular "Soup and Hope" series that has been held each spring since its inception.
Passionate about community service, Janet has served as president on the boards of Suicide Prevention and Crisis Services, Loaves and Fishes, and CRESP (now Center for Transformative Action).  
Janet shares her life with her spouse Bryan, a Cornell employee at the Yang Tan Institute for Employment and Disability. Having raised two sons, Janet enjoys hiking, traveling and spending time with extended family.
Janet has not missed Cornell Opening Day festivities since 1994, except the year she was enroute to deliver her second son at Cayuga Medical Center.