Emma Antoine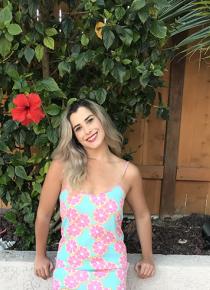 Meet Emma Antoine
College: College of Human Ecology
Major: Master of Health Administration, B.S. Human Development
Year: 2022, 2021
Campus employment and involvement: Residential Community Advisor and RA: Balch Hall Council President; Orientation Leader; Women in Healthcare Leadership; Sloan Student Association
Career Readiness Competencies gained:
Equity & Inclusion (built equity literacy, cultural competence, and diversity awareness)
Leadership (discovering personal leadership style, practicing mentorship)
Communication (active listening, approach conversations with empathy)
Teamwork (utilize diverse strengths within a team, provide honest feedback)
Students work at campus jobs and internships ranging from office support to peer counselor to intramural referee -- many of which are hosted within Student & Campus Life. In the interview below, learn more about Emma Antoine, who has served as a Resident Advisor (RA), Orientation Leader (OL) and in leadership roles in healthcare student organizations.   
Describe the responsibilities you've had in your Cornell student jobs as a Resident Community Advisor and Resident Advisor? 
As a Residential Community Advisor (Summer 2018) and Resident Advisor (2019-2020), I helped to create inclusive communities through daily interactions with residents and regular staff meetings. To accomplish this, I maintained visibility, communicated with the on-call RA, and programmed informal events like making chocolate chip cookies to encourage conversation between residents. In addition, as an RA and RCA, it was my responsibility to act with integrity to keep the interests of the community in mind. Since RCAs and RAs are trained to provide emergency support, I often had to problem-solve on the spot and seek out appropriate resources when necessary. My role required me to have a high level of self-awareness, compassion, and resilience to tackle challenges and concerns for my residents. Being an RA was a rewarding experience and when the pandemic hit, there was so much uncertainty. But the continuity of care that I had for my community persisted through the end of the semester, virtually. 
What other involvements (e.g., clubs, case competitions etc) have you had that helped you build career skills?
When I stepped foot onto Cornell University's campus as a first year in 2017, I was enthusiastic about being a passionate leader rooted in making a positive impact in her community. As the President of the Balch Hall Council (2017-2018), I worked in harmony with Resident Advisors to communicate, plan, and execute upcoming co-programming opportunities. For instance, we organized events such as 'Tasty Treat Thursdays' where residents would grab a delicious treat and pay-it-forward by leaving compliments on other residents' doors. When I became an Orientation Leader (OL) (2018), I realized the tremendous benefit of mentorship and coaching. As an OL, I volunteered to lead a group of 25 students from around the globe through their first few weeks on campus. It was important to approach each conversation with my OL group with awareness and empathy (e.g., the transition to college is difficult) to create a sense of belonging for all students. Within my first and second year at Cornell, I focused on self-development including discovering my strengths and weaknesses as a leader while also focusing on networking to build relationships. As an upperclassman, I focused on developing transferrable skills such as stakeholder management and alignment, conceptual problem solving, and strategic thinking. Simultaneously, I focused on developing my leadership signature and brand. 
As a third year at Cornell (2019-2020), I served as the President of National Residence Hall Honorary (NRHH) where I presided over chapter and executive board meetings and corresponded with the Northeast Affiliate of College and University Residence Halls. Within this role, I helped to recognize the top 1% of student leaders living on campus based on scholastics, involvement, and service. In this role, I learned – through practice - how to lead dynamic meetings where I aligned the right stakeholders, managed the conversation, and facilitated perspective taking. When the pandemic hit in March 2020, NRHH had to shift their in-person programming to be virtual; this was the beginning of my 'crash-course' in facilitating rich programs via Zoom.  
During my fourth year (2020-2021), I was honored to be selected as an accelerated 5-year BS/MHA candidate in the Sloan Program in Health Administration. Once accepted into the accelerated degree, I decided to shift my attention from undergraduate clubs to graduate clubs where I could flourish as a healthcare leader and build diverse relationships across graduate and professional degree programs. 
Finally, as a second year in the MHA program (2021-2022), I immersed myself within healthcare leadership. As the VP of Recruitment on the Sloan Student Association, my goal is to help recruit (via webinars, direct-connections, and interviews) a community of equity-minded healthcare professionals who are enabled to initiate change, facilitate courageous conversations, network with purpose, and balance work with play. Within this role, it is my goal to champion Sloan students to cultivate a sense of belonging, professionalism, and a fun spirit. In addition, as the President of Women in Healthcare Leadership, my goal is to empower women, self-identifying women, and allies to pursue leadership roles and management positions within health care systems by uniting professional development, personal growth, mentorship, and industry resources. Through Women in Healthcare Leadership, I have built a greater awareness on how gender identity affects access to opportunities; in addition to cultural competence and diversity awareness, this club has allowed me to build equity literacy. Through my work as President and Former VP of Undergraduate Outreach for Healthcare Students Association, I helped re-organize a 3-pillar club mission dedicated to cultivating community service opportunities, professional development, and a social fraternal atmosphere. These opportunities contributed to my leadership signature – one of which encourages and inspires collaboration and team building and is coaching oriented. 
In addition to clubs, I have built career skills by participating in case competitions and hackathons. For instance, in Summer 2020, I participated in Humecathon; a competition sponsored by Human Ecology focused on re-opening college campuses during COVID-19. During the competition, I was able to capitalize on the diverse disciplines within my team, including public health, health administration, and design. Case competitions require critical thinking and prioritization of solutions to analyze complicated business issues. For this case, my team worked collaboratively to consider the individual and community environment as well as societal contexts to tackle reactivating campuses. We articulated our pitch through both written and oral forms by delivering a 5-minute oral PowerPoint presentation and submitting a 1-page executive summary. 
Finally, an indispensable resource that I regularly utilize is LinkedIn Learning through Cornell. In Summer 2020, I accepted an internship at Medidata Solutions, Acorn AI a company dedicated to propelling innovators using data analytics, an area of interest that I did not have much experience in at the time. Utilizing LinkedIn Learning, I was able to complete 43 courses that focused on a range of topics from creating a go-to-market plan, journey mapping, conducting market analyses, and learning SQL to the biases of decision making, interpersonal communication, and confronting bias. Throughout my Cornell journey, I have demonstrated personal accountability and effective work habits by completing a 60-minutes of LinkedIn Learning each week which has allowed me to strengthen technical and soft skills. 
What advice do you have for other students about making the most out of their campus jobs and clubs? 
My advisor in the Sloan Program in Health Administration once said, "Your behaviors and your actions create your brand." So, never underestimate the power of acting with a positive attitude and kindness within a job or leadership role. To incite positivity, kindness, and collaboration within your work, start by acknowledging your colleague's work and showing gratitude. I have learned that by being sincere and displaying genuine gratitude, you have the potential to uplift your peers. To make the most out of your campus job while being a full-time student, consider that your team is your greatest asset. Leverage your unique team strengths, provide each other with honest feedback, and communicate professionally to cultivate a powerful workforce around you.