Daniella Peña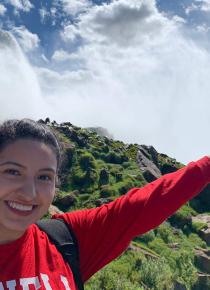 Meet Daniella Peña    
College: College of Human Ecology
Major: Health Care Policy
Year: 2022
Campus Employment: Nutrition Data Specialist for Cornell Dining
Career Readiness Competencies gained:
Communication (writing, talking with team)
Teamwork
Professionalism (time management)
Technology (database)
Students work at campus jobs and internships ranging from office support to peer counselor to intramural referee -- many of which are hosted within Student & Campus Life. In the interview below, learn more about Daniella Peña, Nutrition Data Specialist for Cornell Dining, her work, how it guides her campus experience, the skills she has developed, and the ways in which her role is preparing her for the future. 
What skills have you developed in your job?
I think by far the greatest and most essential skill I have learned through my role in this organization is time management. Managing project deadlines for work along with prelim dates requires a lot of balancing and planning in advance, and I have learned how to organize myself to make sure I have enough time to do both well. 
 
Our role as Nutrition Data Specialists also involves a lot of data transferring and coding nutritional and allergen information from the USDA's database into our NetNutrition Database for use in all of Cornell's dining halls and retail locations. This must be done precisely, there is absolutely no room for error especially when it comes to flagging allergens because coding this information in the system alerts chefs and students to the allergens in their meals. Doing this for Cornell Dining has taught me how to be extremely thorough with my work and has instilled within me a strong sense of responsibility for the well-being of my peers. 
 
Further, I write a lot of research articles to educate Cornell staff and students on changes in nutrition labeling guidelines, the importance of eating different fruits and vegetables, any updates to the recommended daily levels of intake, etc. Doing this has helped me become a stronger writer, particularly in terms of being able to take a lot of information, pull out the most relevant pieces, and convey this to different audiences in a manner that is not just informational, but engaging.
What advice do you have for other student employees?
Working as a part of a team and being a subsection of a large organization has also taught me that in order for us to succeed as a whole there needs to be a lot of communication between individual smaller teams and across groups. As nutrition data specialists we would occasionally work with the brand ambassadors when we wanted to advertise events because they have ties to all the social media marketing that Cornell Dining does. This has taught me that there is likely always someone who has the experience or resources to help you complete your task more efficiently and you should seek this and also offer to help others in whatever capacity you can. This teamwork is something that I feel truly makes Cornell Dining stand out amongst institutional dining programs and I have had a wonderful time working for this organization.
More from Daniella:
Blog Post: Bon Appetit: A Peek at Your Dining Experience as a Cornellian