Tatiana Chang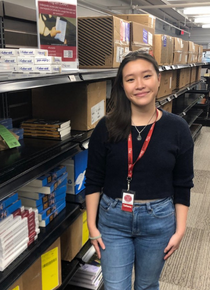 Meet Tatiana Chang
College: College of Agriculture and Life Sciences
Major: Environment and Sustainability
Year: 2024
Campus employment: Student Hiring Assistant, Cornell Store
Career Readiness Competencies gained:
Communication
Career and Self-Development
Professionalism
Leadership
Students work at campus jobs and internships ranging from office support to peer advisor to intramural referee -- many of which are hosted within Student & Campus Life. In the interview below, learn more about Tatiana Chang, who is employed as a Student Hiring Assistant at the Cornell Store.
Out of all the opportunities on campus, why did you choose this one?
It was an opportunity that came out of nowhere. I was in the market for a job on campus. I am always eating at Jenny's, and so I thought maybe I should work here. They were hiring for this position, and yes, I still eat and study at Jenny's.
Describe some of your responsibilities
My main role is to advertise student employee opportunities and take applications and evaluate their availability and scheduling. I send emails to candidates and conduct interviews. I gauge to see if they are a good fit. Later on, if we do choose to hire them, I am in charge of onboarding and orienting. I communicate with store supervisors to work out scheduling conflicts. The store is super flexible, and in the off-season, when there aren't as many applications coming in, we don't need to hire anybody, they also allow me to work on the floor and come in whenever they need me.
What skills have you developed in your campus job?
Communication: I've learned conversational skills, how to go off script and be personable. I am also a great listener. There are often people who are a bit more quiet, or a bit shy, when you first start to interview them, and I want to get to know them better and listen to what they have to say, so I adjust and prompt them with more questions, be more casual, meet them where they are.
Career and Self-Development: My ability to communicate over email has improved. We have a hiring schedule, certain times in different departments that we need to be hiring students for, and so when people give us their availability, it might not match up, so we cannot hire them. Not everyone is okay with that, and I have to be patient with them and explain to them what it means to not have schedules match up. I have to be explicit and clear. And also, we get so many applications, and sometimes people keep emailing us, or I send repeated emails when people don't email back. I have to be patient, and I'm learning email communication and how to keep my inbox organized, too.
Professionalism: When scheduling interviews, I need to keep in mind the store schedule and the conference room schedule, our schedule. There is a constant need to be flexible. 
Leadership: With onboarding, we have one week and one month check-in with new employees to see if they are liking their job, and if there's anything that needs to be amended. For example, sometimes when people apply, they say they want 10-12 hours, and overshoot it a bit, and want a little less time in the store.
What comes out of your position that most surprised you?
How extroverted I am. Previously, before I got this job, I was more of an introvert. Now I am super excited to meet people in interviews. Everybody has unique backgrounds. It is interesting to see how ambitious people are, their life goals. It's really nice to meet so many different people.
What experiences or skills have you developed that you feel will help you down the road in your career?
I am learning what people look for in an interview because I am conducting them.
What advice do you have for other students interested in an on-campus job?
Don't be too nervous to express who you are. A lot of jobs on campus are not looking for experience necessarily. Everyone has skills and that's something you should express more. Don't be afraid to talk about yourself during interviews.