Sofia Florez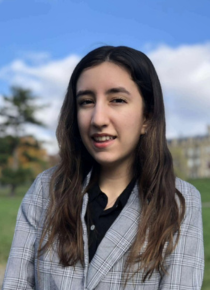 Meet Sofia Florez
Hometown: Miami, Florida
College: Engineering
Major: Operations Research and Information Engineering
Year: 2023
Career Readiness Competencies gained:
Communication
Critical Thinking
Teamwork
Leadership
Students work at campus jobs and internships ranging from office support to peer advisor to intramural referee -- many of which are hosted within Student & Campus Life. In the interview below,learn more about Sofia Florez, who is employed at the Cornell Fitness Centers (CFC) as a student coordinator for staff development.
Out of all the opportunities on campus, why did you choose this one?
I first became involved with CFC as a fitness monitor. During my free times besides studying and in my extracurriculars, I have enjoyed going to the gym. I enjoy the environment that the fitness centers have as people are focusing on themselves and trying to be healthy. Being a fitness monitor would mean having a certain duty at the gym. I enjoy helping others as I was a Girl Scout for 9 years so helping those who need assistance at the fitness center would be something that I would like. I wanted to become more involved with the fitness center operations. For the current position, I am a student coordinator. I saw it as a chance to engage more with CFC and help out my current fitness monitors.
Describe some of your responsibilities
I recently started a new initiative at CFC that is our mentorship program. New hires will be paired with fitness monitors to help them throughout the onboarding process. I am responsible for maintaining this program throughout the semester.
I also developed another initiative for our fitness monitors called the Incentives Program. I structured the whole program and make sure that through the semester, the program is running smoothly. The incentives program is meant to be a way of giving back to our staff and rewarding them for the work that they do, especially in those instances where the Fitness Monitors go above and beyond.
There are 3 different categories that they can earn points in: responsibilities, staff development, and bonus.
For the responsibilities category, fitness monitors can earn points for fulfilling your responsibilities in certain areas and can receive additional points for being a team player! This can include anything from covering a shift to having perfect attendance.
For staff development they would earn points by doing some of our issue room training and on the job trainings to support our new hires when they onboard.
For the bonus category, if the fitness monitor works over a break, they would earn points for this.
After having a certain amount of points, they could redeem them for certain CFC swag. This includes anything from a water bottle to an extra shirt they could wear on shift.
Another responsibility of mine is to analyze and update the staff development processes, content, and policies.
What skills have you developed in your campus job?
Teamwork: I have been able to develop my teamwork skills. In my position, I had to handle different projects that interfaced with different individuals. Through this I was able to enhance my communication skills. For instance, I was in charge of the on-the-job trainings (OJT) for our new hires. I had to coordinate with our OJT providers, schedule several of them each week, remind new hires about the different opportunities available, and provide some trainings myself. There were a lot of different individuals involved in this important process and I had to make sure everyone was doing what they were supposed to.
Communications: In terms of the skills I have been able to develop on the job, communication is the one I have practiced the most. This involves learning how to properly communicate with not only the professional staff but with the peers you work alongside and the fitness monitors you are trying to support. Since we are supporting the fitness monitor, leadership skills are necessary in order to achieve the goals you put forth. My main role is to help the new hires get onboarded and create programs for the fitness monitors such as the mentorship program.
Leadership: I have been able to develop these leadership skills throughout my time at CFC. Since I was also working alongside some of my peers, teamwork turned out to be valuable. I worked with a [colleague] in order to make sure we were properly supporting the new hires and making sure they were onboarded properly. Communicating with her what needed to be done and how we can both work together was something that was done often. 
Critical Thinking: Ultimately, I have also been able to expand my critical thinking skills through the creation of the support programs we have built for the fitness monitors. Along with the pro-staff, we analyzed the needs of the fitness monitors and what were things we could do to increase their engagement. Through this, I was able to take the lead and fully create and develop the mentorship and incentives programs.
What's come out of your position that most surprised you?
The professional staff that I get to work with and the relationships us student coordinators have with them is what most surprised me. This was my first job where I had a manager so I was not sure what to expect. I thought it would have been a bit strict and rigid. However, the professional staff are really welcoming. They understand that we are students and help us accomplish our goals. Any ideas I have had for CFC, they are really supportive of it. 
What advice do you have for other students interested in an on-campus job?
I would definitely apply for an on-campus job because you are already on-campus the whole day. It becomes easier if you then have a job that is also on campus. I also love the flexibility and understanding that comes with an on-campus job.