Shom Abraham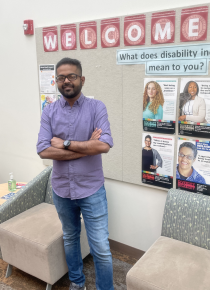 Meet Shom Abraham
College: Cornell Ann S. Bowers College of Computing and Information Science
Major: M.Eng. in Computer Science
Year: December 2022
Campus employment: Document Conversion Assistant, Accessible Media Resource Center (AMRC), Student Disability Services (SDS)
Career Readiness Competencies gained:
Professionalism

Equity & Inclusion

Teamwork
Career and Self-Development
Communication
Technology
Students work at campus jobs and internships ranging from office support to peer advisor to intramural referee -- many of which are hosted within Student & Campus Life. In the interview below, learn more about Shom Abraham, who is employed as a Document Conversion Assistant at the Accessible Media Resource Center (AMRC) within Student Disability Services (SDS).
Out of all the opportunities on campus, why did you choose this one?
I believe in Equity and Inclusion and have always been interested in working for people with special needs. My previous projects were also centered on developing assistive technologies for the visually challenged. This opportunity naturally aligned with my goal as you can see a direct impact of the work on making lives of other people better.
Describe some of your responsibilities
My responsibilities include providing accessible materials for people with a variety of accommodation needs. This involves converting the study materials to appropriate format that best suit their needs and proofreading the content for any errors.
What skills have you developed in your campus job?
I have developed both behavioral as well as technical skills during my job. Behavioral skills include:
Professionalism: Any job should be completed to the best of our ability with effectiveness and efficiency while respecting and honoring the time spent on a task. The tasks that I perform are governed by time and I learned to complete the given task effectively in good time. This experience taught the skill to effectively manage time and successfully complete the task.

Career and Self-Development: The task given to me necessitated focused attention to identify the anomalies in the script. While reading for understanding is a regular skill, reading with focused attention to identify differences requires scrutiny and undivided attention. Therefore, the task taught me to sharpen my skill of attention to detail.
Teamwork: Our work was a team-based task where a group of individuals came together to work on a particular book. This job allowed me to collaborate and bond together with other individuals while we supported each other in successfully completing the job on hand.
Communication: While performing the task given to me, I soon realized the importance of dotting the i's and crossing the t's. It is a combination of attention to detail and editing skills. By missing any kind of punctuation marks especially the French accents or other unknown symbols would lead to misrepresentation of meaning. This job allowed me to practice the skill of editing.
I've also improved my technical skills such as: Microsoft Word, speed typing, and OCR recognition.
What comes out of your position that most surprised you?
Awesome colleagues and their willingness to help in any situation had surprised me the most. The flexible working environment with super helpful staff was everything one could ask for in a job.
What advice do you have for other students interested in an on-campus job?
An on-campus job is a great way to meet new people and get the hang of a work environment. One develops many new skills that come handy when we step into the corporate world. Furthermore, on campus job gives a feeling of belonging to one community. Every job is an opportunity that teaches something or the other which turns out to be helpful in personal and professional development.