Philly Latorre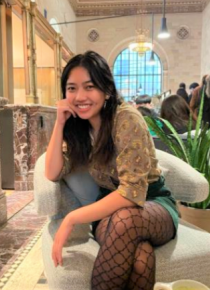 Meet Philly Latorre
Hometown: Syracuse, NY
College: College of Human Ecology 
Major: Human Development
Year: 2023 
Spotlight on Mental Health and Wellness
Promoting the health and well-being of all students is foundational for academic and life success. The Student Mental Health Collective works to advocate peer-to-peer discussion in the support and enhancement of student well-being, and reduce the stigma of mental illness.
As part of this discussion, SMHC is speaking to students from across campus to share experiences and helpful tips that support fellow Cornellians and fosters community around collective mental health on campus. This month, we highlight Building Resilience.
What does resilience mean to you? 
Resilience to me means taking things step by step and day by day. Working on treating my depression has been one of the hardest things I've done. So many days I found myself breaking down or feeling like I'd take one step forward and four steps back. And I'd start small: make myself a meal, take a shower, or clean my room. Sometimes I wouldn't even be able to do any of that and I'd just cry and/or fall asleep. But I didn't fall back into any self harm habits, and thanks to the support and effort I've put in I've made it to a much better place than I have been in years.
What has been your hardest year at Cornell? What lessons did you learn? 
I reached my breaking point in the Fall semester of my junior year. It was years in the making, and a surprisingly good Sophomore spring made me think that everything was finally going to be alright moving forward. I was wrong, however, since I made no efforts to address my depression which had been hurting my academic performance and relationship with myself and others. Junior Fall I overbooked my schedule and got caught in a nasty cycle where my depression made it impossible to do work and the stress of not getting work done worsened my depression. I ended up having to drop a class with a W for the first time since I was failing it and it was a pre-med requirement.
After that I finally got serious about working on treating my depression. One thing I learned is that opening up to friends isn't so bad after all. I used to feel embarrassed and bad for some reason, and sometimes I still do, but from the times I was able to do so I got love and support that helped me. Another thing I learned was that healing takes time. I thought I'd be able to fix everything and feel normal immediately, but it took a lot time and work that it's only really now I'm feel like I've gotten myself to a better place.  
How have you found community? 
I'm a senior, and in a way I'm still trying to find that sense of community. I've been in and still am in incredible orgs on campus and met a lot of amazing people, but for the longest time my depression made it hard to fully get involved and open up to people. There are a lot of days where I feel so alone, and during those times I also feel like it's too late for me to get to know anyone or get involved in anything.
One thing I try to remember is something my therapist told me when I was lamenting over how I felt I lost so much time these past years for getting to deepen my friendships with people and getting involved with things. They said that I could've been complaining about friendships and opportunities ending, but to them it sounds like I'm complaining that things are just beginning. And they're right, I'm impatient, but every day new things are beginning and current things are growing. Things just take time, but there is plenty of time. 
What clubs are you involved in? 
EARS (Empathy, Assistance and Referral Service), CFA 
What's your favorite spot-on campus or place to hang out with friends? 
Temple of Zeus 
This series was developed on recommendations from Cornell's Mental Health Review. 
A wide range of supportive resources are available at mentalhealth.cornell.edu for students in need. An Ithaca-based Crisisline is available at 607-272-1616. Students in need of professional mental health support can call Counseling and Psychological Services (CAPS) at 607-255-5155 and employees can call the Faculty and Staff Assistance Program (FSAP) at 607-255-2673.