Nnenna Ochuru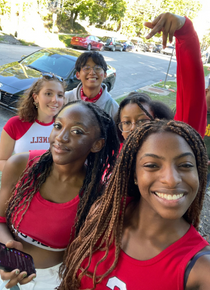 Meet Nnenna Ochuru
Hometown: Southern California: Riverside, California!
College: Arts and Sciences
Major: Double Major in American Studies and History
Year: 2025
Spotlight on Mental Health and Wellness
Promoting the health and well-being of all students is foundational for academic and life success. The Student Mental Health Collective works to advocate peer-to-peer discussion in the support and enhancement of student well-being, and reduce the stigma of mental illness.
As part of this discussion, SMHC is speaking to students from across campus to share experiences and helpful tips that support fellow Cornellians and fosters community around collective mental health on campus. This month, we highlight Social Wellness.
What does social wellness mean to you? Why is it important?
Social wellness to me means a lifelong effort to maintain and prioritize human connection into yourlifestyle. Community is indispensable to the human experience, and it is a biological need we all want. Following the end of quarantine during the pandemic, I, and so many others, came out of intense isolation with a need for community. Being alone in one's prevalent negative thoughts and experiences during the pandemic can put people in difficult mental and physical states and really change their behavior. We take community for granted, like in high school, we had communal activities like sports and clubs, and saw each other daily in classes and lived near each other.
Community is intrinsic to us, and we should seek it out. A good community is having compassionate people around that you feel understand you, relate to your experiences, or are also there for emotional support. We need community to heal and meet our needs, as you can't do it alone or don't need to be "perfect" before reaching out for community to walk with you through all good and bad seasons. I came across a phrase online, that "people are only as needy as their unmet needs". Emotional expression is healthy for us and our close relationships, with respectful communication and boundaries, of course. So, coming into my second year at Cornell, I intentionally sought out genuine community and healthy relationships with people.
How have you found community at Cornell? What advice do you have for students?
Coming into my sophomore year, I wanted to be more intentional with who is part of my community, which should be a safe and supportive place. A living space can be such an influential space, as you spend so much time there. So, outside my close friends, a place that I found community and belonging is at my co-op, Wari. I chose to apply to Wari because I wanted a small knit community with 7 other Black girls where I felt a sense of belonging, connection, and inclusion by just being myself as a Black woman.
With my housemates, I feel we truly care and support each other through our time at Cornell. We share stories, advice, and can just talk about anything--I come home and there's laughter in the kitchen over a TikTok we made, or people talking about Pan-Africanism in the living room. I feel seen and around people all the time (while also having my personal space/time), and as we live in a space together, we naturally grow closer. We are always there to talk and support and also do communal activities together, like canoeing and PowerPoint Presentation Night. We see different aspects of each other and continue to lean in to each other! Beyond just those living in Wari, we also try to foster community with the greater Black women community with weekly dinners to just talk and practice gratitude.
I would encourage people trying to find community that you feel will accept you as your true and genuine self. We are not perfect, and you don't need to be to have a community. These communities may not pop up immediately, and it can take time, which is okay, but they are there and everywhere. After exploring different communities and personal relationships, you will know/feel it in your soul that you feel safe or happy with a community.
How are you involved in the community at Cornell?
On BOSS, I serve as a Co-Community Outreach Chair and organize service projects and a Month Of Service with local organizations. I would love to shout out this organization because I love the commitment of E-Board members to our mission to spotlight the mental health of womxn of color on this campus that is marginalized and goes unnoticed too often, especially black women's. We are passionate about making WOC's needs and experiences visible to the Coalition of Mental Health, so Cornell can better attend to them and move towards equity.
As someone who came from a boarding school with few Black women in my class and student body in general, I also applaud BOSS's commitment to helping freshmen navigate Cornell, with an WOC upperclassman serving as their mentor. For freshmen to see someone like them doing amazing things at Cornell increases the visibility of WOC at a PWI and really influence their first year/semester here at Cornell. By investing in WOC's retention, academic success, and reminding them that they belong, they are able to feel community through BOSS and the WOC community at large.
What clubs are you involved in?
Building Ourselves Through Sisterhood and Service, Wanawake Wa Wari Cooperative, Cornell Historical Society, Black Ivy Pre Law Society.
What's your favorite spot-on campus or place to hang out with friends?
Benches on the Arts Quad
This series was developed on recommendations from Cornell's Mental Health Review. 
A wide range of supportive resources are available at mentalhealth.cornell.edu for students in need. An Ithaca-based Crisisline is available at 607-272-1616. Students in need of professional mental health support can call Counseling and Psychological Services (CAPS) at 607-255-5155 and employees can call the Faculty and Staff Assistance Program (FSAP) at 607-255-2673.