Please bring any tableware back to eateries or place in these bins!
Have you borrowed a cup, bowl, plate, or silverware from one of Cornell Dining's cafes or dining rooms? Found a wayward tumbler or tray in your travels? Please bring it back before you leave for the winter break, no questions asked!
The result of lost dishware, flatware, and drinkware is thousands of dollars spent on replacements each year. Please help keep Dining rates low by returning borrowed items.
You're welcome to bring any Cornell Dining tableware back to any of our dining rooms or cafes, or just place it in one of our Amnesty Boxes located in the lobby areas of these North Campus and South Campus residence halls.
Akwe:kon
CKB
Dickson
Donlon
Ecology House
High Rise 5
Jameson   
HILC
JAM
LLC
Low Rise 6
Low Rise 7
Townhouses
Hu Shih
Ruth Bader Ginsburg
Barbara McClintock
Mews
Risley
Ujamaa
Toni Morrison Hall
Ganędagǫ:
Veteran Program House
Equity & Engagement Living-Learning Community
109 McGraw
118 McGraw
122 McGraw
Cascadilla
Sheldon Court
Schuyler
112 Edgemoor
West Campus House System residents can bring their items right to the dining rooms in their buildings.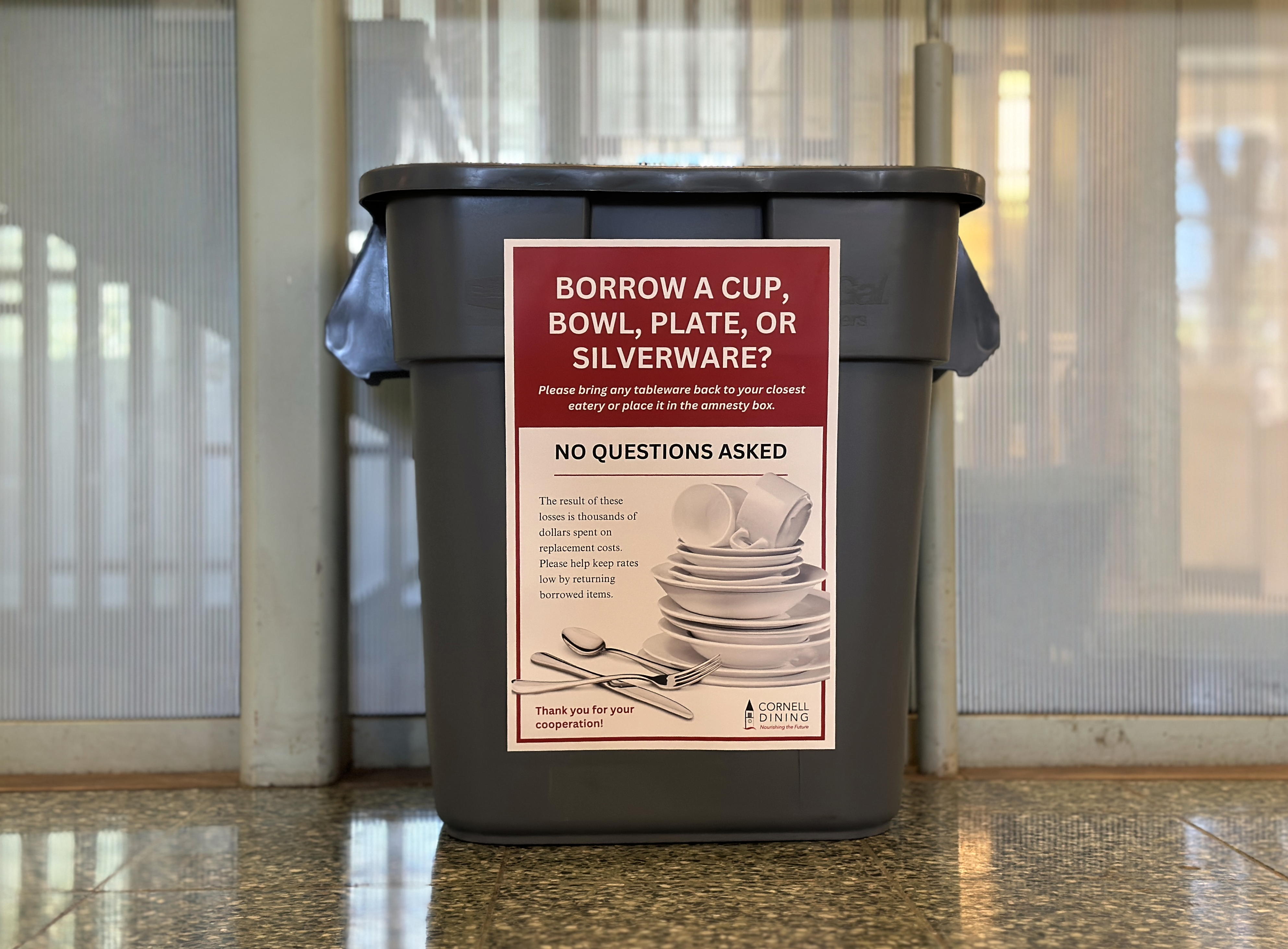 About Cornell Dining
Cornell Dining is consistently ranked in the Princeton Review's top ten for best campus food among all colleges and universities in the country! That high rating comes from customer surveys, and reflects Cornell Dining's commitment to serving high-quality foods that are healthy and creatively prepared with genuine care for a diverse community. Cornell Dining operates about 30 on-campus eateries -- which include residential dining rooms, cafés, coffeehouses, food courts, and convenience stores -- and serves more than 23,000 meals a day to members of the Cornell community. For more information, visit dining.cornell.edu.