Micah Chen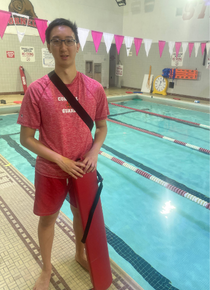 Meet Micah Chen
College: Civil and Environmental Engineering
Major: Bachelors, Civil Engineering
Year: 2023
Campus employment: Lifeguard, Helen Newman and Teagle Pools
Career Readiness Competencies gained:
Teamwork
Communication
Professionalism
Career- and Self-Development
Students work at campus jobs and internships ranging from office support to peer advisor to intramural referee -- many of which are hosted within Student & Campus Life. In the interview below, learn more about Micah Chen, Lifeguard at Helen Newman and Teagle Pools.
Out of all the opportunities on campus, why did you choose this one?
I had been a lifeguard for a couple of years in high school and coached summer swim teams. Coming onto campus as a freshman, I knew I wanted to work on campus to fill some of my time outside class and homework. Since I had been a lifeguard and enjoyed the work, I decided to try out to be a lifeguard at Cornell and became a lifeguard here during my first semester.
Describe some of your responsibilities.
Being a lifeguard is first and foremost about maintaining safety at the pools, and being a first responder in the case of an emergency. Our shifts cover a variety of activities at the pool from lap swim, various swim classes, club swim, and swim team, to diving, water polo, and SCUBA. Some of our shifts even help out one of Cornell's many project teams, Cornell University Autonomous Underwater Vehicle (CUAUV), when they test their vehicle in the pool. It is sometimes surprising to see, when picking up shifts, what kind of activities are going on at the pool.
What skills did you learn in your campus job?
Teamwork: While lifeguarding, it is important to build rapport among teammates to be able to successfully work together, whether it is just discussing relevant information when handing off shifts, to the most extreme case of working together to respond to an emergency.
Communication: It is also important to effectively and professionally communicate with patrons and help them understand why rules are in place to maintain their safety, as it is not always obvious to the patron. Especially since Cornell's population is so diverse, there are sometimes pool patrons from around the world that may have different habits when it comes to swimming. And so sometimes, rules that may seem common to some are ones that need to be reminded to others. As with any exchange, these reminders are communicated in a respectful, effective, and professional way.
Professionalism: Lifeguards are trained to be professional and alert at all times for the safety of all. All this has to happen while our eyes continue to scan the pool.
While watching and responding to emergencies is the lifeguard's first priority, other tasks such as keeping the pool deck clear, helping groups move lane lines, and putting equipment away also fall under the lifeguard's responsibility. While many of these are done in cooperation between lifeguards and the many different groups that use the pool, it is also to maintain safety and maintain a professional pool environment so that patrons can expect a consistent experience.
Career & Self-Development: Effective communication and professionalism are requirements for any job position, and being a lifeguard has helped me practice that in a different way than what I would normally do through classes related to my major.
What advice do you have for students interested in an on-campus job?
For those interested in working on campus, if there is something you have in mind, look for the opportunity, because it will likely exist somewhere on campus. Cornell's larger size leads to more opportunities for students with different interests, some of which I am probably not even aware of! Working on campus has been great to meet a lot of different people that make Cornell so great! If there are lifeguards out there, we are always looking for more!