Meet Katie Gorton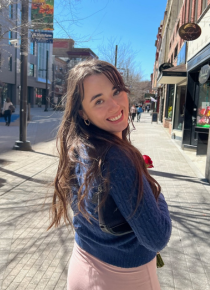 Meet Katie Gorton
Hometown: Los Altos, California
College: CALS
Major: Communication
Year: 2024
Spotlight on Mental Health and Wellness
Promoting the health and well-being of all students is foundational for academic and life success. The Student Mental Health Collective works to advocate peer-to-peer discussion in the support and enhancement of student well-being, and reduce the stigma of mental illness.
As part of this discussion, SMHC is speaking to students from across campus to share experiences and helpful tips that support fellow Cornellians and fosters community around collective mental health on campus.
What does physical wellness mean to you? Why is it important?
Taking care of your physical health, sleeping, and focusing on nutrition are the basic principles to care for your body which builds onto mental wellness. Physical wellness helps me reconnect with my body especially when school becomes stressful and overwhelming. Exercise enables me to be in the present moment, relax, and let go of anxiety. I view physical wellness as a consistent habit I can look forward to during the week and find joy through moving my body in a way that is fun. I never follow a strict routine and switch up what exercise I want to engage in each week as well as my self-care habits from seeing friends, reading, sleeping, etc. It's all about showing up in ways that are best for you depending on what you need in that moment and remembering that resting does not include thinking or worrying about the work you need to do.
What are your favorite ways to take care of your body?
For me, I define self-care as the small ways I can show up and take care of and listen to my body each week as well as care for my emotional states and spiritual needs. I started meditating during Covid, and it's helped me feel more in control of my day and start it off on a more positive note. Practices like meditating and breath work connect me to my body and let me practice mindfulness to observe my thoughts and emotions every day. I don't always wake up feeling my best, but this practice reminds me that I am not my emotions and that the hard emotions that I'm feeling are not permanent and that they will pass. It's been life changing to implement practices in my daily life from a place of self-love and treating myself like I'd treat a friend. When I'm having a hard time, instead of being overly hard on myself or critical, furthering the negative emotions I may already be feeling, I work on showing myself grace, compassion, and love for my body.
What are your non-negotiables when taking care of your physical health in college?
Consistently fueling my body and getting enough sleep are basic foundations to showing up as my best in college, not only as a friend but also as a student. I always aim to get 8-9 hours of sleep and eat 3 meals a day and a snack to maintain consistent energy throughout my day and take care of my physical needs. Drinking enough water is another big one and staying hydrated! These all seem like basic principles that everyone knows about but can be hard to prioritize. I usually never work past 8-9 pm and like to have a hard deadline when doing my work so I can turn off and focus on myself. It's necessary to invest time in ourselves as students so our energy isn't depleted and recognize that we are deserving of taking care of ourselves and meeting our needs.
What clubs are you involved in?
Body Positive Cornell
What's your favorite spot on-campus or place to hang out with friends?
I love hanging out at Goldwin Smith and Temple of Zeus!
This series was developed on recommendations from Cornell's Mental Health Review. A wide range of supportive resources are available at mentalhealth.cornell.edu for students in need. An Ithaca-based Crisisline is available at 607-272-1616.
Students in need of professional mental health support can call Counseling and Psychological Services (CAPS) at 607-255-5155 and employees can call the Faculty and Staff Assistance Program (FSAP) at 607-255-2673.