Marley Bonacquist-Currin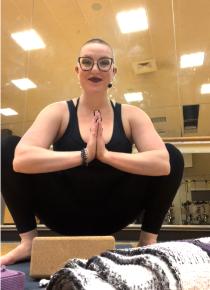 Marley Bonacquist-Currin
College: CALS
Major: 3rd Year Ph.D. Student Natural Resources and the Environment - Environmental Economics
M.S. Applied Economics and Management - Environmental Economics, Cornell University
Year: 2025
Campus employment: Yoga Instructor, Cornell Fitness Centers
Career Readiness Competencies gained:
Equity & Inclusion
Communication
Teamwork
Leadership
Students work at campus jobs and internships ranging from office support to peer advisor to intramural referee -- many of which are hosted within Student & Campus Life. In the interview below, learn more about Marley Bonacquist-Currin, who is employed as a yoga instructor at CFC.
Out of all the opportunities on campus, why did you choose this one?
Yoga is a really important component of my life and being, and I really wanted to engage with the Cornell community outside of my department. Combining those two seemed like the right move!
Describe some of your responsibilities
I try to provide a calming and empowering environment for participants to learn about breath, meditation, and movement.
What skills have you developed in your campus job?
Equity and Inclusion: Yoga, an ancient practice from India, is at its core an act of social justice. The word "Yoga" means "yoke," or "union" and emphasizes our need "to join" and "to unite." It's important that as yoga teachers we teach the history, both the Sanskrit and English terms for the asanas (physical poses) and pranayama (breathwork). Classes must be a supportive and safe space for all, and while yoga has been largely white-washed and commodified in the west, we have a role as yoga teachers and yoga students to respect the roots of the practice, teach the history, and uplift BIPOC and LGBTQ2IAS+ teachers to highlight their work and the origin of yoga.
Communication: Directing a whole room of people has definitely helped me with my public speaking!
Teamwork: Working as an employee for CFC has taught me a lot about working on a large team that doesn't always share the same space. The communication it requires to support our students, sub for each other, and update our teaching methods has to take place during semester meetings, via email, or by setting up small group meetings together. It has taught me a lot about the beautiful things a large team can do, even remotely, to meet a common goal. 
Leadership: Trying to find the right cues to help participants move their bodies and engage with their minds has been a really beautiful exercise in language, tone, and teaching.
What comes out of your position that most surprised you?
I expected to connect with people, but I continue to be happily surprised by how many connections I make each class. Something about moving and breathing together!
What experiences or skills have you developed that you feel will help you down the road in your career?
Yoga teaches us a lot about self-care, community support, social justice, and empowerment, and learning how to fully engage. That is something I already try to apply into other aspects of my career and personal life.
What advice do you have for other students interested in an on-campus job?
Always ask! Reach out to people you see/know doing those jobs or the resources you find. You never know who can help connect you.