Katerina Karaiskos-Romero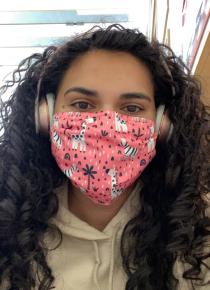 Meet Katerina Karaiskos-Romero
College: College of Arts & Sciences
Major: Biology & Sociology
Year: 2020
Campus Affiliations: Deixa Sambar, The Callbaxx A Cappella, Cornell Democrats, CU Progressives, COVID-19 Peer Ambassadors
Why did you become an Ambassador?
I became an ambassador because I wanted to help reduce disease transmission and prevent another sudden shift to fully online-learning.
Favorite socially distanced activity?
My favorite socially distanced activity is Zoom movie nights!
What are some ways you're working to keep our campus community healthy and safe?
Nearly every club I am a part of is doing everything virtually this semester to ensure minimal contact!
Why do you wear a mask?
I wear a mask because I want to minimize the spread of COVID-19 to systematically oppressed communities who are at higher risk.
What's one piece of advice you'd give to everyone during this COVID-19 pandemic?
One piece of advice I would give to everyone: Recognize that social inequalities shape health outcomes! So please, let us all do our parts!