Jamaya Scott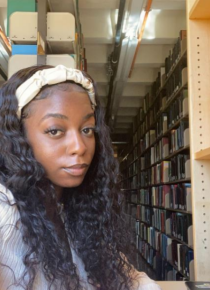 Meet Jamaya Scott
Hometown: Queens, NY
College: Arts & Sciences
Major: English
Year: 2025
Spotlight on Mental Health and Wellness
Promoting the health and well-being of all students is foundational for academic and life success. The Student Mental Health Collective works to advocate peer-to-peer discussion in the support and enhancement of student well-being, and reduce the stigma of mental illness.
As part of this discussion, SMHC is speaking to students from across campus to share experiences and helpful tips that support fellow Cornellians and fosters community around collective mental health on campus. This month, we highlight Building Resilience.
What does resilience mean to you?
I wish I knew that resilience isn't always about getting perfect grades at any cost or tirelessly staying up for days on end without talking to another soul just to finish a paper. Yes, I see resilience as continuing to walk towards the finish line no matter what obstacles you are faced with, but it doesn't mean giving up on yourself and your health in the process.
At Cornell, resilience may look like getting a less than desirable grade on an assignment and then going to office hours to speak to my TAs and Professors about how I can do better next time and what I missed on the previous assignment instead of dropping the class. Resilience is choosing to still go to class after being rained on and missing the TCAT. And more importantly, I'd argue in college resilience is sometimes just taking my L and moving on with my day. It's easy to get lost in the idea of perfection no matter what at such a rigorous institution but it's important to understand that resilience comes with taking a step back to prioritize you and then reentering with a better mindset and plan that will help to accomplish your goal.
How was transitioning to Cornell during your first year? What advice would you give yourself?
Initially transitioning to Cornell was difficult because I was not used to the rigor of college or having so much independence. I quickly got a handle on my first semester and decided to join a pre-law organization, which allowed me to find a sense of community but also took up so much of my time to where I didn't interact with students outside of that organization. Second semester, in an attempt to take more control of my freshman year, I engaged in community events and clubs to meet new people. I'd advise myself to interact with more people during my first semester. I think it would've helped me to feel less stuck and stressed during the start of college.
How do you take care of yourself and your mental health?
To take care of myself and my mental health, I try to participate in an activity I enjoy at least once every week, whether it's taking a walk on the arts quad, painting with friends, going on a target run, or chilling in my dorm lounge. I also do not skip meals during the day to complete more school work and I hold myself accountable for this by planning lunch and dinner dates with friends. It's easy to get caught up in the academic world and never separate from it, especially because I live where I go to school, but I find that taking time for myself while doing these activities help to ground me and remind myself there is more to life than my school work.
Additionally, I've taken charge of my mental health by taking mental health days on occasion. When I've been having a particularly hard time during the school semester, or feel that I have not been able to catch my breath, I communicate with my professors and arrange a day in the week where I either do virtual class or do not attend class and prioritize myself. On days like this, I do whatever my heart feels is best and sometimes it's just sleeping in or having a day to meditate and read outside while the sun is out and going on a run or painting in the evening. The point is to just have a slower paced dayto reset. I'm proud of myself for recognizing that I need mental health days because I have always been someone who runs on no sleep, participates in several school events, volunteering work, and other extracurricular activities. It took me several days of being entirely too exhausted to socialize, skipping meals to do work, and being unhappy after a long day to realize I needed to do better. I plan to continue with these mental health models to check myself as I continue in my journey at Cornell.
What clubs are you involved in?
Kappa Alpha Pi Pre Law Fraternity, Black ivy pre law society, BS
What's your favorite spot-on campus or place to hang out with friends?
Ujaama dorm, Okenshields, Walking through Ho Plaza
This series was developed on recommendations from Cornell's Mental Health Review. 
A wide range of supportive resources are available at mentalhealth.cornell.edu for students in need. An Ithaca-based Crisisline is available at 607-272-1616. Students in need of professional mental health support can call Counseling and Psychological Services (CAPS) at 607-255-5155 and employees can call the Faculty and Staff Assistance Program (FSAP) at 607-255-2673.