Leonardo Villa-Forte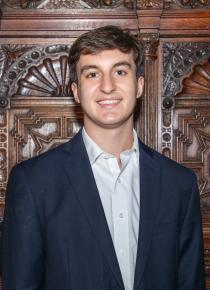 Meet Leonardo Villa-Forte
Hometown: Cleveland, Ohio
College: Arts and Sciences
Major: Philosophy
Year: 2023
"The advice I would give to my freshman self would be to take everything slowly. Freshmen try to take on too much, like 5 or 6 classes, and get involved in too many activities. It really contributes to a lot of stress in a lot of ways. But there's no rush, there's eight semesters here. And I would just tell my younger self to take it easy because I'll figure it out naturally as it goes along and try to enjoy it."
Sometimes big plans fall through, and when this happens, we don't understand it. But somehow, new opportunities have a way of presenting themselves when we least expect them. Meinig Scholar Leonardo Costa Lins Villa-Forte had secured a summer internship in 2020, to participate in the Cornell in Washington summer program, working in D.C., and it was cancelled due to COVID.  The cancellation was disappointing, and Leonardo assumed that he wouldn't use his Meinig Leadership Support Account before he graduated. Then in March, Leonardo received an invitation.
The Oxford University Student Conference on Spinoza is an annual student run event that honors and explores the myriad ways in which Philosopher Baruch Spinoza (1632-1677)  has contributed to, and continues to contribute to, the history of philosophy. Leonardo worked on a writing piece about the philosopher, and it was published earlier this year in an undergraduate journal. One of his professors encouraged Leonardo to submit his work for a chance to present at the conference. Leonardo's paper 'Searching for Spinoza's PSR' was one of five selected for the conference, and he was invited to present his work in May at Pembroke College in Oxford, England. 
Leonardo is a senior graduating from the College of Arts and Sciences with a Philosophy major and a minor in Law and Society. Leonardo is originally from Brazil, but he and his family later moved to Cleveland, Ohio. Leonardo's decision to come to Cornell was mainly due to the university's motto "any person, any study".  "I knew this community was for me. In terms of the college environment, I think it's perfect in a small town. And just having the resources to be able to fulfill the ideals of "any person, any study", like having the ability to take classes in different colleges is attractive to me."
During his freshman year, Leonardo joined the speech and debate team to fulfill his Meinig leadership requirements. Then he got involved with Logos, the philosophy club and journal. He helps run their discussion club in the fall and then in the spring, he's on the editorial team for the club's undergraduate philosophy journal. For the last two years, Leonardo has been on the Meinig Executive Board, helping plan Meinig sponsored events, and then taking over as chair during his last semester at Cornell! When Leonardo has time for leisurely activities, he plays on the Foot Volley Team, an on-campus club sport that's similar to beach volleyball, but with soccer rules--you can't use your arms!
Leonardo believes that being a Meinig Scholar has been a formative experience and it has shaped the way he thinks about leadership and how it's also service oriented. "I'm grateful for the program for providing the resources for us to serve the community. I think that's the main point of being a Meinig." After graduation, Leonardo hopes to take some time off and fit in some traveling before attending law school. His interest in constitutional politics has set his sights on attending Georgetown and his goal is to work with their legal clinics.