Jeffrey Zoyhofski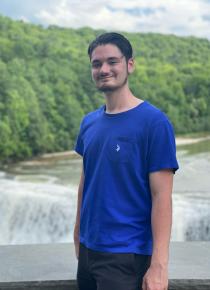 Meet Jeffrey Zoyhofski
Hometown: Buffalo, New York
College: Agriculture and Life Sciences
Major: Applied Economics and Management
Year: 2024

Jeffrey (he/him/his) is a sophomore from Buffalo, NY studying Applied Economics and Management in the College of Agriculture and Life Sciences. Jeffrey decided to come to Cornell University because he believed it would truly provide him with the greatest overall educational experience. The Charles H. Dyson School of Applied Economics and Management within Cornell University allowed Jeffrey to combine his interests of business and science quite easily as the program requires and incorporates both disciplines in its curriculum.
Jeffrey was able to get very involved on campus early on as he was able to join the Mutual Invest Club of Cornell (MICC), Global Market Analysts at Cornell (GMAC), and join our very own Cornell Tradition's Student Advisory Committee (SAC). As a member of MICC, Jeffrey researches potential investment opportunities in the healthcare sector and works with other students to pitch potential investment opportunities in the healthcare industry to the rest of the club. Jeffrey is a project manager in GMAC and in his role is responsible for providing guidance to other students in the club as they all research global market trends. Through his new membership as an SAC member this semester, Jeffrey has been able to help coordinate opportunities for tradition fellows to volunteer at downtown Ithaca's Applefest and at Cornell hockey games.
The Cornell Commitment Program has been one of the most valued aspects of Jeffrey's Cornell educational experience. The opportunity for Jeffrey to join The Cornell Tradition Fellowship before his first semester even started allowed Jeffrey to make the very large Cornell University become smaller and more personable for an incoming freshman. Jeffrey was able to meet many new people through the program whether it be through volunteering or working throughout the academic year. Out of the people he encountered, some even became mentors and close friends of Jeffrey.
The advice Jeffrey states for any Cornell student is to try at least one new thing every semester whether it be a new club, hobby, or a class outside of a student's comfort zone as Cornell University has a plethora of resources that allows a student to truly explore potential interests.
From home, Jeffrey often misses a plethora of high-quality chicken wings and Buffalo Bills fans. However, when Jeffrey returns to Buffalo, he misses the natural scenery of Cornell University and the greater Ithaca area, his on-campus involvement, and above all else seeing his friends and colleagues almost every day.
If Jeffrey had 2 extra hours every week, he would try to learn how to play a new musical instrument. Jeffrey absolutely loves music and would love to casually play some of his favorite songs on multiple instruments. If Jeffrey could ask an alum any question, he would ask, "How can I maximize the short time I get to spend in Ithaca as a Cornell student?" Jeffrey has asked this question to multiple alumni, but he believes hearing different perspectives of individuals will put Jeffrey in the best position for himself to maximize his time as a Cornell student.